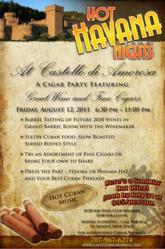 Don a Fedora or Panama hat and wear your best Cuban threads as we celebrate the long-awaited heat of summer
Calistoga, CA (Vocus/PRWEB) July 15, 2011
Castello di Amorosa, Dario Sattui's authentically styled 13th century Tuscan castle and winery in Calistoga, Napa Valley presents Hot Havana Nights: A Cigar Party on Friday, August 12 from 6:30 to 11:00 p.m.
"Don a Fedora or Panama hat and wear your best Cuban threads as we celebrate the long-awaited heat of summer," said Jim Sullivan of Castello di Amorosa.
Enjoy a barrel tasting of 2010 wines in the cool, 12,000-square-foot, Roman cross-vaulted Grand Barrel Room with their celebrated winemaker, Brooks Painter and then enjoy a sumptuous authentic Cuban dinner on the Il Passito Patio, built by hand with centuries old brick imported from the Hapsburg Dynasty in Europe. Hemingway Tobacconists from Palo Alto will provide an assortment of cigars that pair perfectly with the world-class Castello di Amorosa wines including Painter's rich and seductive, 2007 Cabernet Sauvignon.
As the sun sets over the vineyards, enjoy and dance the night away to hot Cuban music.
The cost for this wine club event is $95 if booked before July 31. After this date it is $120 for wine club members and $140 for their guests.
For more information, call (707) 967-6272 or visit their website: http://www.castellodiamorosa.com. Customers are also invited to learn about the intriguing history of Castello di Amorosa at http://www.blognapavalley.com.
About Castello di Amorosa
Following fourteen years of construction, Dario Sattui opened Castello di Amorosa on April 9, 2007. Situated in the hills above Calistoga, Castello di Amorosa, a family-owned business, produces world-class wines including Cabernet Sauvignon and Pinot Grigio which are sold only at the winery direct to the consumer. The castle winery was made with brick, wood and iron imported from Europe and combined with over 8,000 tons of local, Napa Valley stone. Today, Castello di Amorosa, a popular Napa Valley destination, offers a variety of winery tours and wine tasting options in a unique Tuscan castle setting.
###