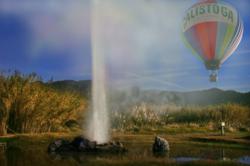 Calistoga California is a unique destination whose vistas will remain with you long after you land
Calistoga, CA (PRWEB) January 12, 2012
Experience a sightseeing tour of Napa Valley from the unmatched angle of Calistoga Balloons' tours. In honor of 2012 and Valentine's Day, Calistoga Balloons announces two upcoming, hot air balloon specials for clients looking for the ultimate Napa wine country, lighter-than-air experience.
This January, Calistoga Balloons is offering a "Happy New Year" special: buy any Calistoga Balloons gift certificates in the month of January and receive $20 off any ballooning package, or just mention the "January Special" to receive the discount.
Take any Valentine's Day celebration to new heights in February with the company's "Sweetheart Package for Two" for only $499. An elegant addition or alternative to Napa wine tours, this package includes a ballooning excursion, Schramsberg champagne brunch, LeBelge chocolates, and pick up and drop off at any Napa Valley lodging.
Calistoga Hot Air Balloons, a Napa hot air ballooning company has a trusted reputation and years of experience providing guests safe and unforgettable journeys above Napa Valley. Experience the amazing Old Faithful Geyser and the dramatic Palisade Cliffs of Napa Valley, as well as spectacular views of world-renown landmarks like Mount St. Helena, the tallest mountain in the Napa Valley.
Float over famous Napa Valley vineyards and wineries, including Clos Pegase, Sterling Vineyards, Frank Family Vineyards, Charles Krug Winery, the Napa Valley castle of Castello di Amorosa and Château Montelena, the winery featured in the movie, "Bottle Shock."
"Calistoga California is a unique destination whose vistas will remain with you long after you land. You simply cannot experience this journey anywhere else or with any other hot air balloon company," Yvonne Lerch of Calistoga Balloons said.
Weather permitting, Calistoga Balloons flies year round and underloads its excursions by 20 percent, guaranteeing clients a more personal experience.
For more information about any of Calistoga Balloons' services, call 888-995-7700, view the company on the web at http://www.calistogaballoons.com or visit 1458 Lincoln Ave., Rail Car 15, in Calistoga.
About Calistoga Balloons
Calistoga Hot Air Balloons is the only hot air balloon company to fly from scenic Calistoga, Calif., and the northern end of Napa Valley on a regular basis. They offer a unique sightseeing tour with flights that are more rural in nature, providing pristine views of Napa Valley from a hot air balloon.
Calistoga Balloons of Napa Valley employs the highest standards and best practices of hot air ballooning to ensure its passengers enjoy a relaxing and safe experience, whether they are first-time balloonists or frequent fliers. Calistoga Balloons is a certified company that works directly with a repair facility with comprehensive knowledge of the maintenance and repair of hot air balloons.
###