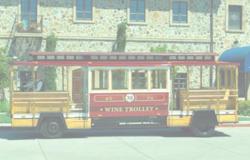 This fun six-hour tour is professionally narrated by a local historian and is played on each trolley tour; the driver and narration give a historical background on the Sonoma Valley
Sonoma, CA (PRWEB) April 21, 2012
The original Sonoma Valley Wine Trolley is offering daily group and private wine tours services throughout Napa wine country. The Sonoma Valley Wine Trolley tours run daily from 10:30 a.m. until 4:30 p.m.
The Sonoma Valley Wine Trolley has multiple pickup locations based on reservations, and the historic trolley officially departs from Sonoma Plaza at 10:30 a.m. The fee is $99 per person and the trolley can hold up to 28 people per tour or it can be available for as little as two people for personal engagements. Tasting fees at wineries are only $10 per person or less.
Craig Haskell, regional sales manager at the Sonoma Valley Wine Trolley, said, "This fun six-hour tour is professionally narrated by a local historian and is played on each trolley tour; the driver and narration give a historical background on the Sonoma Valley. The tour visits four wineries: Ravenswood; Buena Vista, where the participants will enjoy a lunch catered by The Girl and the Fig; BR Cohn; and Mayo Family. At each stop, passengers will be greeted by a host of the winery and given a historic tour. It is a fabulous open air way to see Sonoma Valley."
An additional route is being added this spring to include stops at Imagery, Benziger, Kunde and Paradise Ridge wineries. An added plus is that several winery tours will be included in the wineries' tasting fees.
To purchase tickets or for more information about the Sonoma Valley Wine Trolley, view the wine trolley on the web at http://www.sonomavalleywinetrolley.com or call 877-WINE TROLLEY (946-3876).
About the Sonoma Valley Wine Trolley
The Sonoma Valley Wine Trolley, owned by Appellation Tours Inc., offers daily wine trolley tours, from 10:30 a.m. to 4:30 p.m., which include pickup at Sonoma and area hotels. The tours offer fun and historic narrative from George Webber (local historian and actor), scenic views of historic landmarks from an authentic replica of a late 1890s San Francisco Cable Car, a visit to four boutique wineries, a catered picnic lunch and more.
The Sonoma Valley Wine Trolley is the perfect solution for a great wine tasting day in California's wine county!