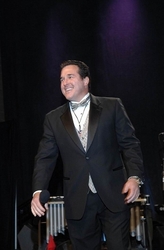 As it is, I am working seven days a week in the auction business, and I barely have the time for anything else. Call me crazy, but I am currently dabbling in a small project I call The Wine Zealot
Lynden, WA (PRWEB) October 2, 2007
Veteran charity wine auctioneer Tom DiNardo will debut his first freelance article with Decanter magazine in their January 2008 issue. Tom DiNardo is the principal partner and C.E.O. of DiNardo & Lord Auctioneers, which is regarded as one of the nation's most highly acclaimed and best known charity auction firms. Decanter magazine is based in the United Kingdom, published monthly in more than ninety countries, and regarded as one of the most prestigious wine magazines.
God Save the Queen. American veteran charity auctioneer Tom DiNardo will debut his first freelance article in the United Kingdom-based Decanter magazine's January 2008 issue. Decanter magazine is published monthly in more than ninety countries, and it is considered to be one of the most prestigious wine magazines. Decanter covers news in the wine industry, reports on wine makers throughout the world, and offers vintage guides and wine recommendations to its readers.
Tom DiNardo has worked within the wine industry in both California and Washington State. Tom is a noted sommelier and wine educator, a wine consultant, a certified master appraiser who specializes in wine appraisals, a popular freelance wine writer for other publications such as Wine Enthusiast, Santé, and Wine Adventure magazines, and he is a regularly featured wine writer for WineSquire.com. He is an active member in the International Sommelier Guild and also the Society of Wine Educators. When asked about his accomplishments, Mr. DiNardo states "These interests, especially the wine writing, appeal to my creative nature. However, it is my fundraising auction firm that is my mistress, and she demands my greater focus and attention."
DiNardo & Lord Auctioneers was founded in 1993, and Mr. DiNardo's fund-raising auction firm is recognized as one of the nation's most accomplished and successful. Tom DiNardo has presided over 1,200 auctions in his career, with superior results experienced by his clients. Tom holds five world records for prices achieved at auction. "DiNardo & Lord Auctioneers is a fundraising auction firm, first and foremost, and charity wine auctions are our small passion that we truly enjoy. As of late, people have been referring to me as the wine auctioneer, but the bulk of my company's business is actually focused on serving other non-profit clients such as private and public schools, universities, community groups, and other charities," states DiNardo.
When asked about his previous knowledge of Decanter magazine Tom said, "I am really excited about the opportunity to write my first article for Decanter magazine's One to Watch section. I enjoy reading the magazine's articles by writers such as Norm Roby. I am a huge fan of Jancis Robinson, and I am very familiar with her writing, as much of it was required reading in my sommelier education. Perhaps my favorite Decanter magazine personality is Michael Broadbent because he is an auctioneer, noted wine authority, and a wine writer. Mr. Broadbent is an inspiration to me in my career path, which I have attempted to model after his tremendous accomplishments. Someday I hope to personally meet these accomplished wine personalities."
Mr. DiNardo laughed when I asked him if he wanted to pursue a career in wine writing. Tom says he appreciates the wine writing opportunities he has been given so far, but he equally enjoys his other pursuits relating to his passion for wine. "As it is, I am working seven days a week in the auction business, and I barely have the time for anything else. Call me crazy, but I am currently dabbling in a small project I call The Wine Zealot," says DiNardo. Will we be reading more wine articles written by Tom DiNardo? Tom remarked, "As long as there is interest and time".
By John Lord
The Wine Zealot Network
###