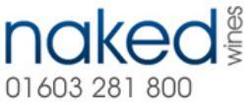 (PRWEB) December 1, 2009
To celebrate their first birthday, online farmer's market for wine, Naked Wines, which launched on 1st December last year, has set up a Twitter and Facebook competition to mark the occasion, asking customers...
What would YOU do naked for a year's free supply of wine?
"We wanted to have a bit of fun to celebrate the end of a fantastic first year," explained Rowan Gormley, Founder of Naked Wines. "And do something that gets our customers' imagination going."
"So... for any willing customer, follower or fan, what would you be prepared to do in the buff to win a year's free supply of wine? And to be clear, you have to be prepared to put your money where your mouth is as we will be asking for photographic evidence before we send the prize!"
"To help get your creative juices flowing and to see what you're up against, a few suggestions so far include stripping off and:
1 )Doing a bungee jump at their local Christmas fun fair
2) Going orienteering with nothing but a compass and flat cap
3) Banana boating in the north sea
4) And standing in the middle of Trafalgar square, singing to the pigeons
"So if you think you can out-strip any of these, we'd love to hear from you!"
To enter the competition, which starts at noon on 1st December, please visit Naked Wines Twitter page for details at http://twitter.com/NakedWines or visit their Facebook page at http://tiny.cc/QawH8
Terms and conditions and decency rules apply, Naked Wines' decision is final!
###