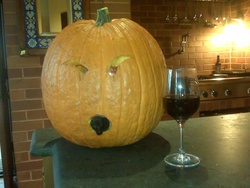 In most cases, even wine educators find the same wine in premium casks and bottles equal in quality
San Francisco, CA (Vocus) October 30, 2009
With Halloween on a Saturday this year, why not gather friends for an adult "Hallo-wine" party? Add fun and flair to your grown-up party by turning Jack into a ghostly sommelier with the hottest trend in the wine industry, 3L premium wine casks.
And, don't be spooked. "In most cases, even wine educators find the same wine in premium casks and bottles equal in quality," stated Adam Richardson, Global Winemaker for Underdog Wine Merchants and spokesperson for Better Wines Better World, industry resource for eco-friendly premium wines. And the fact that a 3-liter premium cask holds the equivalent of four bottles or 20 five ounce glasses of wine -- for around the cost of three means more of the same wine for less dollars.
Instructions for a Spooky Sommelier
Carefully open the top of the wine cask to remove the vacuum-sealed bag. The sturdy bag that holds the wine (Bag-In-Box) is what protects it from exposure to air and guarantees that the last glass will be as fresh as the first. Place bag inside the carved pumpkin lining it up so that the spigot protrudes through the mouth of the carved pumpkin. Leftover wine in 3-liter casks can be refrigerated for up to six weeks so no spoilage - the last drop is as good as the first. (Note: you may want to keep the premium wine box handy so that you can replace the bag after the party.)
Fun Halloween Party Idea
Host a blind wine tasting with multiple cask-o-lanterns. Choose three to five premium varietals from the list below and place each in its own carved pumpkin. Using a permanent marker, number each of the pumpkins. Than let your guests sip and write down their preferences. Compare notes. When everyone is ready, reveal the identities of the wines. Have some seasonal nibbles on hand such as toasted pumpkin seeds from your wine cask o-lantern pumpkins, baked mini-quiches from the frozen food aisle, shots of creamy pumpkin soup, oven-baked chicken drumsticks. And for dessert? Bowls of trick-or-treat candy. Candy corn anyone?
Wine Suggestions
Because the 3-liter wine cask is the fastest growing trend today in premium wine, there are more and more varietals and appellations from which to choose. Some suggestions include:

Fish Eye 3L Premium Cask (California)
Pinot Evil 3L Premium Cask (France)
Corbett Canyon 3L Premium Cask (California)
Angel Juice/Killer Juice 3L Premium Cask (California)
Casarsa 3L Premium Cask (France)
J.P. Chenet 3L Premium Cask (South Africa)
Boho Vineyards 3L Premium Cask (California Central Coast)
Herding Cats 3L Premium Cask (Western Cape, South Africa)
For more information visit http://www.betterwinesbetterworld.com.
# # #