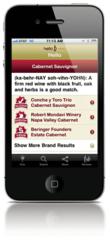 We're excited to participate in a mobile resource for consumers when they need help while standing in the wine aisle.
San Francisco, CA (Vocus/PRWEB) February 24, 2011
Using the Hello Vino mobile apps, Banfi Vintners promotes several brands from its South American wine portfolio to consumers as they search the wine aisles.
Available to both iPhone and Android users, the free Hello Vino apps suggest wine brands to consumers based on meal selections, specific occasions, and taste preferences. Banfi Vintners is taking advantage of the sponsorship opportunities available to wineries through Hello Vino, which are similar to Google's pay-per-click advertising system. The mobile apps display only one sponsor for every three wine brands, and are currently serving an average of one million wine recommendations to consumers every month.
"This is a revolutionary medium through which we can showcase our brands to consumers," says Ed Barden, New World Portfolio Director at Banfi. "We're excited to participate in a mobile resource for consumers when they need help while standing in the wine aisle."
Banfi Vintners is promoting thirteen key varietals that are widely available in retail. Within 10 days of participating in Hello Vino's sponsorship program, Banfi Vintners' brands experienced an average 245% increase in awareness with a 213% increase in consumer engagement. Purchase intent is also measured by consumer interaction with the individual products displayed through the app.
To enhance exposure of their brands, Banfi Vintners distributed bottle neckers throughout retail stores in several U.S. markets that promoted the use of the Hello Vino mobile apps. Banfi Vintners is an importer of popular wine brands including Bolla, Concha y Toro, and Trivento, and is regarded as an industry leader in digital marketing.
Using smartphones, consumers are now better equipped to make educated purchase decisions. A 2010 survey by Accenture, a management consulting and technology services company, found that 73% of shoppers favor their smartphones for assistance as compared to 15% who favor interaction with a retail employee. The free Hello Vino apps deliver this personal, non-intimidating approach to wine recommendations.
"We're excited to help wine consumers make educated decisions," remarks Jim Kopp, Vice President of Strategic Development at Hello Vino. "We also look forward to working with wineries to promote awareness of their brands at the point of sale."
About Banfi Vintners:
Banfi Vintners is one of North America's premier importers of fine wines from Europe and the New World. This family-owned company enjoys a remarkable track record of identifying and successfully developing many high-profile wine brands in the U.S. From the magnificent family-owned Castello Banfi estate in Tuscany to other stellar properties in Europe, Australia and South America, Banfi delivers an array of world-class wines tailored to every taste and budget.
Headquartered in Old Brookville, NY, Banfi Vintners was founded in 1919 by John Mariani, Sr., grandfather of the present generation of ownership, cousins, Cristina and James Mariani. Today it is the oldest U.S. wine importer to remain in continuous business, and to be managed throughout by the same family.
About Hello Vino:
Hello Vino delivers wine recommendations to mobile phones, providing consumers with the perfect bottle for a meal, occasion, or gift. The service is available on any cell phone through free iPhone and Android apps, mobile web sites, or via text messaging. More information, including video demonstrations and features, are available at HelloVino.com.
Contact:
Jim Kopp, VP Strategic Development
Hello Vino, Inc.
(800) 599 8478 ext 709
jk (at) hellovino (dot) com
http://www.hellovino.com
###