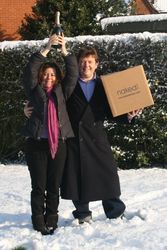 (PRWEB) December 23, 2009
Online farmer's market for wine Naked Wines (http//:http://www.nakedwines.com), has delivered one lucky wine drinker from Maidenhead, Berkshire an unexpected Christmas present; a Willy Wonka wine trip to Champagne.
"We knew we were on the verge of selling our one millionth bottle of wine" explained Rowan Gormley, Founder of Naked Wines, "And having only launched 12 months ago, we decided it was cause for celebration."
"We promised the customer of the golden bottle an all-expenses paid trip to the vineyard of that wine; we had no idea where that might be, but it seems topical that it should be Champagne!"
Naked Wines' customer Richard Lucas, who's taking his wife Lindsey on the dream trip, unknowingly snapped up the golden bottle when ordering his Christmas wines.
"I popped online to stock up for the holidays, which included a couple of bottles of Champagne, but I never imagined i'd be heading off to Champagne itself!
I've been supporting Naked Wines for several months now, and quite often chat to the winemakers online, but to meet one of them in person and see the process first-hand is absolutely fantastic. I'll certainly be raising a glass or two to the Naked team over the festive period!"
Champagne producer Francois Moutard, who will be hosting Richard and Lindsey, has a family winemaking history dating back to 1642.
To find out more about Naked Wines, who focus on supporting small, unknown winemakers looking to make a name for themselves in the UK, visit http://www.nakedwines.com or call 01603 281 800.
###