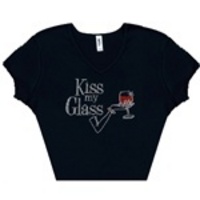 We wanted to create a place where women can come and indulge their playful side for a little while and find some fun things that help express their personality
Grapevine, TX (PRWEB) October 31, 2008
WineDivaShop.com, a website dedicated to fun, sassy, and sophisticated gifts and apparel for women wine lovers was launched last week. Wine Diva Shop carries an extensive selection of wine apparel, whimsical hand painted wine glasses, wine totes, witty cocktail napkins and many more items geared towards wine divas and wine princesses.
Wine Diva Shop was the brainchild of Su Vino Winery owner Chari Scott. "I wanted to create a one-stop shop where ladies could find fun, witty, and sassy gifts and apparel for themselves or gifts for their girlfriends. I also wanted to make it a fun shopping experience so we have fun colors and sassy comments that most wine divas can related to. So much of the marketing of wine gifts today is bland and focuses on boring things like corkscrews, decanters, and utilitarian items like that. On the other hand, we focus on fun and interesting items like wine totes with humorous quotes and shirts with rhinestones," said Scott.
The most popular items offered on Wine Diva Shop are the painted wine glasses. In addition to the very popular Lolita wine glasses, Wine Diva Shop also carries an exclusive line of hand painted Girlfriend Wine Glasses, painted by a local North Texas artist. There are even several Christmas designs now available in both series of wine glasses. "We wanted to create a place where women can come and indulge their playful side for a little while and find some fun things that help express their personality," stated Scott.
Wine shirts are also a very popular item and Wine Dive Shop has several to choose from including rhinestone wine t-shirts with several fun designs including "Got Wine" and "Kiss my Glass." Wine Diva Shop also has several different wine related night shirts with designs by Emerson, as seen on the television show The View. To complete the wine apparel ensemble, there are several rhinestone covered hats available for purchase.
Wine Diva Shop also offers gourmet treats like wine infused chocolate sauces, wine truffles, and wine soaked chocolate fruit treats. "Women love wine and women love chocolate. They definitely have a place together," said Scott. Wine Diva Shop plans to offer more gourmet treats in the coming weeks like brownie mixes that ask for wine as part of the recipe.
With over 250 different items to choose from, including several exclusive items, Wine Diva Shop is positioned to be the leading destination for fun wine related gifts for wine divas.
Wine Diva Shop is a division of Su Vino Winery, an award winning winery located in Grapevine, Texas. Su Vino Winery (http://www.SuVinoWinery.com) has won over 50 medals for its wine since its inception in 2003.
###