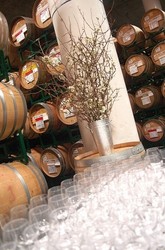 New Yorkers are passionate about wine and food, and are always looking for new wines to try and new regions to explore. Around the World in 80 Sips™ offers that in a fun, informative setting without the formality often associated with wine tastings.
New York (PRWEB) October 28, 2009
Bottlenotes invites wine enthusiasts to explore the world through wine at their signature wine tasting, Around the World in 80 Sips™ on Friday, November 13th at 583 Park Avenue. More than 80 wines from five continents will be poured, accompanied by Italian charcuterie, cheese from Artisanal Premium Cheese, handmade chocolate, hand-rolled cigars and more.
Bottlenotes' wine tasting is inspired by the Bottlenotes Guide to Wine: Around the World in 80 Sips, and comes on the heels of its nationwide book tour. Their tastings, which feature wines from traditional and emerging wine regions including Argentina, California, Chile, China, France, Italy, Lebanon, New Zealand, Portugal, Spain and South Africa, have drawn large crowds in San Francisco, Chicago, Portland and Dallas. Bottlenotes Co-Founder Kim Donaldson is confidant in the local response, "New Yorkers are passionate about wine and food, and are always looking for new wines to try and new regions to explore. Around the World in 80 Sips™ offers that in a fun, informative setting without the formality often associated with wine tastings."
A portion of ticket sales for the event benefits Robin Hood, a local non-profit organization which identifies and combats poverty at its roots, giving 100% of every donation directly to programs helping poor New Yorkers. Guests presenting a business card at the Robin Hood booth will be eligible to win a grand raffle prize of two round-trip jetBlue tickets to San Francisco for a weekend of exclusive wine tastings and a winemaker dinner in Napa. Whether looking for a fun night out or seeking new wines for the holidays, Around the World in 80 Sips™ promises fun, flavor and a flight to wine country for one lucky attendee.
Tickets are available at Bottlenotes.com/80Sips. 'Early bird' tickets are $50 (limited quantity), regular advanced tickets are $60 (available through 11/13 at 2:00p.m.) and tickets are $75 at the door. There is a VIP and press tasting from 5:30 - 6:30 p.m., with an exclusive Champagne and sparkling wine tasting featuring Ayala Champagne, and includes a reserved seating area throughout the event. VIP tickets are $125. Doors open to general admission from 6:30 p.m. - 8:30p.m. All tickets will be issued at the door and require a photo I.D. Tickets are non-refundable, but transferable.
About Bottlenotes.com
Launched in 2005, Bottlenotes is a Palo Alto based company, uniting e-commerce and community with its online wine platform that guides wine novices and enthusiasts through the world of wine with a Personal Taste Profile™, community reviews, tailored wine recommendations, customized wine clubs, hand-selected boutique and estate wines from around the world, a wine registry, and wine resources such as The Daily Sip™ (a daily wine email sent to 100,000 subscribers), a Winecyclopedia™, and podcasts that share insights from wine experts. For more information visit http://www.bottlenotes.com.
About the Participants:
Sherry-Lehmann Wine & Spirits- New York's leading brick and mortar wine retailer located at 505 Park Avenue at 59th Street celebrating over 75 years of business.
Artisanal Premium Cheese- America's first restaurant-based Maître Fromager Max McCalman will attend representing Artisanal Premium Cheese and their extensive selection of cheeses aged in their very own cheese caves.
Bottega del Vino Crystal- The Chicago-based importer of beautiful, hand-blown Italian stemware. 'If the wine matters, so does the glass.™'
Leopard Frog- Leopard Frog's winemaker and proprietor David Bate will be on hand pouring a selection of premium estate wines made on his family-owned farm in the heart of the historic wine capital of Stellenbosch, South Africa. His handmade chocolate and hand-rolled cigars will also be sampled.
Chateau Montelena- In 1976 Chateau Montelena put California at the forefront of the wine world at the now infamous Paris tasting in which four white Burgundies were tasted against six California Chardonnays and the French judges were convinced that the top-ranking white wine was one of their own, when in fact it was Chateau Montelena's 1973 Chardonnay.
River Valley Wine Cellars- River Valley Wine Cellars is a state-of-the-art, environmentally controlled and secure storage facility for the preservation of fine wine for both short and long term storage, serving Manhattan and the Tri-State Area.
Ayala (http://www.thepurestchampagne.com) Ayala is the only champagne house with Latin roots. Established in 1860 in Äy, France by Edmond de Ayala, the son of a Colombian diplomat in Paris, when he married the niece of a noble Viscount and received the Chateau of Äy as his dowry, along with prime vineyards located in Aÿ and Mareuil sur Aÿ.
Rick's Picks (http://www.rickspicksnyc.com) Founder Rick Fields is scheduled to be on-hand to discuss the wonders of his pickles. Rick's Picks is located on the Lower East Side of Manhattan and makes fourteen varieties of shelf-stable pickles. The pickles are hand-packed and all natural, made in season with produce from local farmers. They bring innovation to a category that hasn't seen much change in a long time.
PR/Media Contact:
Marybeth Bentwood
delicious life PR
tel 718.210.3663
cell 323.401.3098
deliciouslifePR.com
###