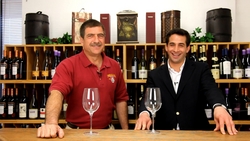 We taste over 400 wines a month from all over the world and our mission is to educate and provide the best wines to our members
Monrovia, CA (PRWEB) June 17, 2010 -
In an effort to provide its members with a fun and exciting approach to wine tasting, The Original Wine of the Month Club has launched a podcast wine tasting series featuring well-known winemakers, wine experts and distinguished wine selections from around the globe. These online episodes are hosted by Wine of the Month Club owner and President, Paul Kalemkiarian Jr., and feature wine ratings, tasting notes, the mores of wine tasting and wine making news. The podcasts can also be found on the Original Wine of the Month Club's Facebook fan page. Additionally, Kalemkiarian and wine author Ed Masciana co-host recorded wine tastings each month. To view the podcasts or wine tastings, please visit http://www.wineofthemonthclub.tv.
"We taste over 400 wines a month from all over the world and our mission is to educate and provide the best wines to our members," said Kalemkiarian. "We have had such a positive response from podcast viewers, and consider these episodes to be a great addition to our wine club program."
Wine of the Month Club TV's "Tasting with the Winemakers Series" features noted winemakers from all over the world, discussing the process in which they create such delicious and famous wine varieties. Past guest have included notable California winemakers such as Adam Webb of Odisea Wine Company, Robert Pepi Jr. of Robert Pepi Winery, South Australia's Andrew Cudmore of Berton Vineyards, and most recently, Antonio Macanita of Fita Preta Vineyard in Portugal.
Kalemkiarian's vast knowledge of wine and biting sense of humor appeals to wine novices as well as seasoned aficionados. Kalemkiarian and his staff create humorous online video shorts that poke fun at wine tasting etiquette. In one of the latest videos, Kalemkiarian explains what he does with the "bad wine"…he uses the bottles as bowling pins. He concluded the video with a bonus promotional code for a 10 percent discount on Wine of the Month Club wine selections and products.
ABOUT THE ORIGINAL WINE OF THE MONTH CLUB®
Serving both novice and educated wine enthusiasts nationally for almost four decades, The Original Wine of the Month Club© is a highly-rated mail order wine service that offers its members hand-picked selections of fine wines from the world's finest growing regions in such diverse areas as California, Oregon, Washington, Italy, Spain, France, Germany and Australia. Each month more than 400 wines are tasted and evaluated for club selection and brought to the members at extraordinary prices. Members may shop online from a full selection of wines in the "Wine Shop," gourmet gifts and wine accessories. Our newsletter contains fascinating insights into the featured wines, gourmet recipes and serving tips for wine lovers. The club is FREE and you never pay for a wine you do not like. The original Wine of the Month Club® houses a wide selection of award-winning wines at a 10,000 square-foot retail space/warehouse in Monrovia, California. For more information, please visit http://www.wineofthemonthclub.com or http://www.wineofthemonthclub.tv.
###