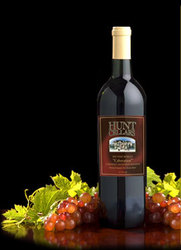 Hunt Cellars was indeed honored to be asked to do a seminar at such a prestigious event
Washington, D.C. (PRWEB) March 5, 2008
David Hunt and his winery, "Hunt Cellars" are no strangers to fine wine tastings and seminars. David Hunt has traveled across the nation showcasing his premium wines at various expos and events. Most recently, he was asked to display his wines along with his wealth of knowledge regarding premium wines at the Washington DC Wine Expo.
"Hunt Cellars was indeed honored to be asked to do a seminar at such a prestigious event," said David Hunt, Winemaker. "We believe it will help draw more attention to all of the great wineries in Paso Robles, and all the wonderful wines coming out of this region".
Last year Hunt also gave the seminar "Blue Cheese and Chocolates from Around The World Paired with Hunt Cellars Varietal Ports", a sold out event that earned rave reviews. David Hunt is out to prove that California wines are among the best in the world. Hunt Cellars has some of the highest scoring Ports ever produced in California with its 2000 Tawny Port "Oldie But Goodie" scoring 93 Points, and Cabernet Port "Good Vibrations" Scoring 90 Points. Hunt Cellars also received a 93 score for its "Rocketman Zin" and a 92 score for its Destiny Vineyards Reserve Zin, as well as numerous gold Medals. In the March issue of Wine Enthusiast, Hunt Cellars' Cabernet "Bon Vivant" scored 90 points.
According to Hunt, "These scores and such appreciation for our wines are exactly what we need to keep working ever harder to produce the greatest wines possible. Getting a 90 for our Cabernet in such a competitve arena is very special."
Hunt Cellars put together an amazing seminar for the Expo. Hunt demonstrated his vineyards terroir and clones at the wine tasting by pouring 2 Cabernet side by side from different elevation from 1750 ft. to 2100 ft. Other pourings included Hunt's "Unforgettable" Merlot, "Raging Bull" Syrah, Destiny Vineyard Zinfandel and a Hunt Cellars surprise wine, 6-year barrel-aged 2002 Syrah Port "Sweet Serenade Tawny style", which was poured at the end paired with a delicious chocolate. These wines are some of Hunt Cellars' finest Reserve wines and have received many prestigious awards.
This was a great opportunity to taste the very best of Paso Robles' cult wines, from Bordeaux Reserves, Rhone and Zinfandel. Visitors had the chance to experience the amazing varietal distinction and learn how low yields and white calcareous soils concentrate fruit expression, plus the impact of weather, soils, water and other components that create the best wines from around the world.
Winemaker David Hunt guided visitors, step by step, with a sensory indulgence that showcased the incredible wine diversity from his highly acclaimed Vineyard, making this a tasting to be remembered.
For more information, contact David Hunt at 818-700-1600.
# # #