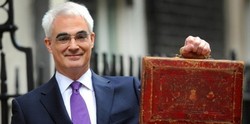 By calling everything binge-drinking you miss the point.
Reading, UK (PRWEB) December 6, 2008
Essential Fine Wines have today issued a statement saying that the government's war on the drinks industry with excessive duty hikes will not help the problem of binge drinking but will only drive another nail in the coffin for British companies and hurt the pockets of law-abiding social drinkers in these testing economic times.
In Alistair Darling's Pre-Budget statement, despite the promised VAT cut from 17.5% to 15%, the duty on alcohol would also rise by 8%. This 8% duty rise has ensured that all wine, beer and spirits prices will once again rise above the rate of inflation in the hope that an extra £1.5 billion in tax will be raised from drinkers over the next three years.
Critics of the latest tax increase have claimed that the Chancellor is penalising law-abiding drinkers for the behaviour of a minority of irresponsible binge-drinkers.
A spokesperson from Essential Fine Wines commented;
"The nation's binge-drinking culture, said to cost £20bn a year, is being tackled by both ineffective and expensive government schemes, such as drinks labelling, but mostly by price hikes which effectively price-out people's ability to afford and enjoy alcoholic drinks."
"They are targeting large numbers of middle-class couples who enjoy a bottle of wine over dinner in addition to the targeted very small minority of lager louts who cause chaos in town centres."
Jeremy Beadles, chief executive of the WSTA has condemned the recent government move and said:
"This year he will have increased tax on alcohol by a massive 17 per cent, hurting consumers when they have little else to cheer about."
Although doctors and addiction groups have welcomed the increases in alcohol duty, saying it would help cut down on problem drinking, there is evidence to suggest that the price of drink is not a determining factor to the binge drinking problem. New research from Datamonitor has suggested that the social aspect of drinking is so important for British consumers that they are willing to put up with the higher prices charged in pubs, bars and clubs. British drinkers are among the biggest spenders on alcohol in Europe, spending on average £1,272 per person per year.
Coupled with the increase in duty on alcoholic beverages, government strategies have purposefully targeted all consumers of alcohol. Caroline Flint the government's health minister has widened the focus beyond teenagers and binge drinkers.
"We want to target the older drinkers, those that are maybe drinking one or two bottles of wine at home each evening. They do not realise the damage they are doing to their health and that they risk developing liver disease," a Whitehall source said.
The public funded campaign purposefully covers everything "from out-of-control revellers in city centres on a Saturday night to people regularly cracking open too many bottles of wine at home on weekday evenings".
However, critics say that these government schemes do not tackle the cause of the problem and are a serious waste of public money in difficult economic times. Josie Appleton, of the Manifesto Club, a civil liberties group, has said "Binge-drinking is a problem to do with drinking to escape."
"The vast majority of drinking is not a problem and a bottle of wine over dinner for two is perfectly normal"
"By calling everything binge-drinking you miss the point."
Kevin Allen, founder of Essential Fine Wines openly condemned the government's current stance and has said that:
"There are undoubtedly growing numbers of people turning up in hospital with drink-related diseases and injuries. This is unacceptable and stretches our National Health Service unneccessarily in difficult times. However, I would like to know how many of these incidents were due to middle-aged couples 'binge drinking' 3 large glasses of wine with their meal at home."
"We need to support our own businesses in these difficult economic times. With ever increasing price hikes people will just travel to France to purchase wine and other products, where wine is taxed at 2p per bottle instead of over £1.20 in this country. Then the government will receive no income at all and our businesses will be affected too."
"With these price increases the government is lumping all drinkers together into the anti-social bracket. In my mind there are two distinct types, those that drink for the taste of the drink and those that drink for the effect that consuming the alcohol gives them. I believe that we should target each group differently."
Essential Fine Wines is an impartial wine information site, allowing lovers of wine to find their favourites. Visitors can discuss their experiences and give opinions on different wine matters by writing reviews or visiting the wine blog. The site also has extensive sections covering premixed wine cases and wine gifts.
# # #