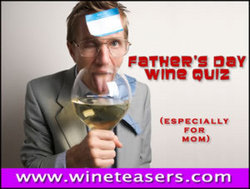 It's the Cork Jester's Wine Teasers approach.
La Crosse, WI (PRWEB) June 10, 2009
While the rest of the world is fawning over dear old Dad, the wacky folks at Wine Teasers are poking fun at him -- in a cultured sort of way, of course. They've created the Father's Day Wine Quiz, an online trivia quiz that serves up fascinating wine facts while at the same time throwing a few Mom-inspired barbs at the man of the hour. The free quiz is available at http://www.wineteasers.com/winequizzes.html.
The ten-question quiz, which uses a Homer Simpson-like father figure as its focus, manages to both amuse and inform as it explores a variety of wine topics. Why did Dad bark out the word "punt" in his sleep - was he dreaming about football, wine barrels or wine bottles? Why does he like horizontal wine tastings - does it have something to do with his Lazy Boy, wine vintages or wine grapes? And does the term "bottle sick" refer to Dad himself or something he drank?
"It's the Cork Jester's Wine Teasers approach." said Stefan Smith, President of Fine Wine Games, Inc., publisher of the quiz. "Nothing is sacred, certainly not Father's Day. Anyone who has played our wine card game knows that we like it irreverent and witty. It's about having fun while learning about wine."
Irreverent and witty takes center stage in the multiple choice Father's Day Wine Quiz. For example, should Dad really be so thrilled that the waitress wants some "corkage" from him? And should he worry that his "drip dickey" might be shrinking? We're talking wine, Dad, not anatomy. Each trivia question includes a one-paragraph explanation of the answer, for those who wish to learn a little more.
The Father's Day Wine Quiz was created by Fine Wine Games, Inc., which also created the White House Wine Quiz, a popular quiz during the 2008 presidential election. The company's flagship product is Cork Jester's Wine Teasers, a lighthearted and educational card game with content written by Jennifer Rosen, the James Beard Award winning wine writer and educator. Wine Teasers games are available in time for Father's Day at selected Barnes & Noble stores around the country, Barnes & Noble online, Amazon.com, retailers throughout the U.S., and at the Wine Teasers website (http://www.wineteasers.com).
Contact Information:
Stefan A. Smith, President
Fine Wine Games, Inc.
(888) 258-8575
(608) 769-5363 (cell)
Online Press Kit: http://www.wineteasers.com/media
###