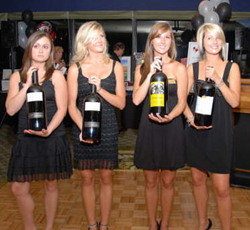 A qualified wine appraisal and qualified wine appraisers meet the guidelines established by the U.S. Department of Treasury and the Internal Revenue Service
Lynden, WA (PRWEB) June 01, 2009
With worldwide wine consumption at an all time high, wine appraisals are becoming quite common. Wine appraisal services are contracted by individuals, governmental entities, insurance companies and law firms for a number of reasons. Wine collections that have been compromised or damaged may require a wine appraisal, as an individual or insurance company may be seeking to know the replacement value. Governmental entities and private parties may contract a wine appraiser in situations where a wine collection is involved in a legal or tax issue. Lawyers contract with wine appraisers in legal cases involving issues of probate, taxation and marriage dissolution.
What is a qualified wine appraisal? Who is a qualified wine appraiser? "A qualified wine appraisal and qualified wine appraisers meet the guidelines established by the U.S. Department of Treasury and the Internal Revenue Service," said wine appraiser Tom DiNardo S.P.A. Are wine appraisers required to have state licenses? "Wine appraisers do not need licenses, but they must meet minimum government accepted standards." How do you spot a fraud versus a legitimate personal property (i.e. wine) appraiser? "All qualified personal property appraisers must be USPAP certified and maintain appraiser designations with recognized appraiser associations," remarked Mr. DiNardo. USPAP is the Uniform Standards of Professional Practice which are the federal appraiser standards that were approved by Congress in 1986. Appraisers are required to recertify their USPAP credential every two and half years.
"Another surefire way to spot a fraudulent wine appraiser is if he asks that his payment be a commission or percentage of the assets being appraised," says Tom. USPAP regulations authorize certified appraisers to charge fees that consist of either an hourly rate or flat fee. USPAP regulations further require that the personal property appraiser remain current on trends affecting their areas of expertise. The U.S. Census shows that there are approximately 200,000 individuals claiming to be appraisers in the United States, but fewer than 2,500 of those qualified personal property appraisers actually possess a USPAP certification. "The best way for potential wine appraisal clients to verify their wine appraiser's qualifications and relevant experience is to ask for proof of the appraiser's education and credentials," said DiNardo.
Tom DiNardo is the CEO of DiNardo & Lord Auctioneers and Appraisers. Mr. DiNardo worked in the wine industry in both California and Washington prior to founding his company in 1993. He is a wine judge, published wine writer, wine educator, and as a wine auctioneer he holds five world records for the price of wine sold at retail auction. Tom is also a sommelier diplomate, having been graduated from the International Sommelier Guild's grueling two year sommelier diploma program. Tom DiNardo is perhaps best known as one of nation's most famous charity auctioneers, recently being recognized in Who's Who in America, and he has presided over some of the country's most prestigious charity auctions.
Currently there only a hand full of qualified wine appraisers in the United States who provide this expert service. Mr. DiNardo began his appraiser education with the Auction Marketing Institute where he earned his Graduate Personal Property Appraiser (GPPA) designation and later completed the requirements for his Master Personal Property Appraiser (MPPA) designation. In 2008 Tom completed ISA's core education program by earning their Accredited Member (ISA-AM) appraiser designation. In 2012 he earned his "Appraiser' Candidate" designation with ASA. In 2014 he was awarded his Senior Professional Appraiser (S.P.A.) designation with the National Association of Professional Appraisers (NAPA). Tom DiNardo has contributed to articles featured in the Wall Street Journal and Best's Review - Monthly Insurance News magazine.
When asked if the Antiques Road Show has helped his business, Mr. DiNardo acknowledged that the popular television show had. Tom said in a good natured tone, "People need to understand that my wine appraisal services are not free as are the appraisals portrayed on the Antiques Road Show." DiNardo claims that there are no minimum wine bottle requirements needed for his wine appraisal services. "I have appraised a single bottle of vintage 1899 Chateau d'Yquem for Lloyds of London and also a hotel's wine collection that numbered over ten thousand wine bottles," says DiNardo. Tom typically performs many self contained wine appraisals for his clients who seek charitable tax deductions. "A few months ago I provided a wine appraisal for U.S. Customs involving a noteworthy wine collection that was being smuggled into the United States."
Mr. DiNardo has never tasted a sample from a client's wine collection as part of his service. He explains his clients are not likely to share a glass of wine with him that comes from a bottle of wine whose appraised value is more than an average person's monthly salary. Tom DiNardo does provide many other services in support of his wine appraisal business. He provides spirits and liquor appraisals, wine education services, wine consulting services, and expert witness services. Tom explains, "A few years ago I had a complex wine appraisal, as a result of a construction company's negligence, that required my sorting heat damaged wine bottles from those that were undamaged." Tom DiNardo travels throughout the nation each year and provides his wine appraisal service to appreciative clients.
###