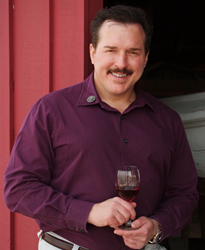 Top 4 charity auction firms in the nation
Seattle, WA. (PRWEB) May 08, 2008
Lynden, WA (PRWEB) May 8, 2008 -- Tom DiNardo is the founding charity auctioneer and current master wine appraiser for DiNardo & Lord Auctioneers. His benefit auction company is currently ranked as one of the "Top 4 charity auction firms in the nation," and has raised over 35 million dollars for charities and nonprofits since its inception in 1993. In addition to the accolades his distinguished charity auction company has achieved, some argue that Tom is one of the best qualified charity auctioneers and wine appraisers in the US today.
Tom DiNardo grew up in a Sicilian-Irish household in which he recalls that wine was part of almost every meal. Tom's intrigue with wine continued into adulthood, and, prior to founding his charity auction firm, he worked in sales management positions within the wine industries in both California and Washington. Since founding DiNardo & Lord Auctioneers, Mr. DiNardo has written for Wine Enthusiast, Wine Adventure, Santé and Decanter magazines, and he is currently a full time contributor to WineSquire.com and WineandSpiritsJobs.com. Tom has also been a contract auctioneer for Edward Roberts International in Chicago where he attained five world records for the price of wine sold at auction.
In 2002 Mr. DiNardo completed his certified appraiser training and USPAP certification (Uniform Standards of Professional Appraisal Practice), and he was awarded his Graduate Personal Property Designation. In March 2007 he achieved his Master GPPA designation, and in October 2007, after an intensive two year wine education curriculum, he completed his Sommelier Diploma Program with the International Sommelier Guild. To date Tom is the first and only fundraising auctioneer in the nation to earn his sommelier diplomate credential. In 2008, Tom DiNardo joined ISA and and earned his ISA-AM designation. In 2012 he was awarded his "Appraiser Candidate" designation by ASA, and in 2014 he was awarded his Senior Professional Appraiser (S.P.A.) designation from the National Association of Professional Appraisers (NAPA).
Over the last several years Tom has performed wine appraisals for individuals, businesses, insurance companies and law firms. "All wine appraisals vary in size, content, and wine vintages" states DiNardo. When asked what is the smallest wine collection you have ever appraised, he laughed, "As a wine appraiser, I was asked by Lloyds of London to appraise a single bottle of vintage 1899 Chateau d'Yquem." Tom has appraised wine cellars for hotels containing several thousand bottles valued at several hundred thousand dollars, to the more humorous requests he receives in which curious customers ask him to appraise their bottle of vermouth. Tom jokes that his greatest challenge as a wine appraiser is performing expert witness testimony, because, like the opposing attorneys sitting across from him, he doesn't like his clients to lose. Mr. DiNardo states emphatically, "As a master wine appraiser, my job is not only to perform the wine appraisal, but also to educate my client on other issues such as appropriate wine storage, wine investment opportunities, and wine consulting."
What is your next career goal and pursuit? "I have been invited on June 10-11, 2008 to be a wine judge for the California Wine Competition in Sacramento California. This wine competition and judging event is the nation's oldest and most prestigious wine competition." In July Tom will attend an advanced wine tasting seminar at UC Davis as part of their oenology program. "I am excited about both the wine judging opportunity and the UC Davis educational program as they will both add significantly to my wine appraisal career," says DiNardo.
Tom DiNardo advises all potential customers who seek the services of certified wine appraisers to verify their education, experience and credentials. Most importantly, he stresses that all certified wine appraisers will possess the USPAP certification and will charge you only a flat fee or hourly rate in performing your wine appraisal. Anyone else charging a percentage of value or lacking the appropriate credentials, experience or certifications is a fraud.
###