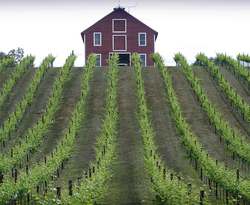 natural park and botanical garden
Sonoma County, Calif. (Vocus) February 19, 2009
In tough economic times, a vacation in Sonoma's wine country that centers on free, or almost free, activities is just the prescription. With a reputation as a wine country that is welcoming, friendly and relaxed, Sonoma County is also known as a great value for those seeking the lifestyle of great wine and fresh food.
Here's a roundup of a baker's dozen of free things to do in Sonoma Country.
1. See hot vineyard action at the Sonoma County Pruning Championship at 10 a.m. on Feb. 20 at SRJC Shone Farm, 6225 Eastside Road, Forestville. You need to be on time for this one. These competitors are professionals at what they do and can prune a row in no time at all.
2. Within the county are 13 American Viticulture Areas (AVAs, or appellations) -- regions with unique soils and climates that allow certain grape varieties to grow particularly well. Discover a new area to visit and enjoy the main reason why people travel to Sonoma's wine country -- the wine. Many premium wineries in the county offer free wine tasting. Those that charge a minimal tasting fee (usally $5) apply it to the purchase of a bottle. Search all wineries at http://www.sonomacounty.com/wineries.
3. Visit a piece of Sonoma County's agricultural heritage. Get a Farm Trails map and go visit a farm, nursery or ranch.
Experience life on the farm with sheep, llamas, honey bees, butterflies and birds! Seasonal adventures include summertime berry picking, apple farms, pumpkins and gourds in the fall, Christmas trees in winter and baby animals and fields of flowers in the spring. Can't visit a farm? Attend a wine country farmers market. Most are seasonal, but some are year round, including the one at the Santa Rosa Veteran's Building. More information at http://www.farmtrails.org
4. Western Hills Nursery in Occidental is a botanical gem. You can spend hours walking through it and enjoying the scenery. For over 40 years, Western Hills Nursery has been developing three gently rolling acres into a complete, mature landscape, using unusual or hard-to-procure varieties of herbaceous plants, vines, shrubs, and trees, many of which are seen nowhere else in cultivation. This array of plants has been arranged in such a way to satisfy the most critical and artistic eye and to delight the senses through color, form, texture, fragrance, and seasonal play of light and shadow. Water and man-made features complement the cultivated environment: a natural pond with water lilies can be viewed from one of the several footbridges that cross the waterways lined in dry-mortared rock, and an ornamental brick pool designed by one of the original owners is truly a work of art.
Western Hills Nursery
16250 Coleman Valley Road
Occidental, CA
(707) 874.3731
http://www.westernhillsnursery.com
5. See a live seal show in Jenner. Throw your kayak or canoe into the Russian River at Duncans Mills and paddle to the mouth of the river and get close to the seals and sea lions that sun themselves on the beach. Don't get too close, they are wild animals and should be treated as such.
6. Bodega Head is the rocky headland that forms the entrance into Bodega Harbor. The harbor side provides a popular crabbing area along the jetty, and the many hiking trails on the ocean side allow access to small, sandy coves and spectacular scenic blufftop views. The high cliffs offer excellent vantage points for observing migrating gray whales. And it makes for a great napping spot. Open your car windows, lean the seat back and be lulled to sleep by the sound of the crashing waves.
Goat Rock, near the mouth of the Russian River, is known for its scenic shoreline and easily accessible sandy beach. Picnic tables and restroom facilities are also available. Goat Rock beach is home to a colony of harbor seals which are fun to watch, but please stay 50 yards from the seals, especially during pupping season (March - August.) Due to the protected status of the seals, no dogs are allowed on Goat Rock Beach.
Sonoma Coast State Park Headquarters
3095 Coast Hwy
Bodega Bay, CA 94923
(707) 875-3483
http://www.parks.ca.gov
7. Check out LandPaths for unusual, off-the-beaten-path hikes on preservation land. LandPaths creates ways for people to experience the beauty, understand the value, and assist in healing the land in their local communities.
http://www.landpaths.org
8. Strolling through the grounds at Paradise Ridge Winery a giant American eagle swoops into view. This is the winery's Marijke's Grove Sculpture Garden, a wooded grove nestled among ancient oaks. Situated high on a ridge overlooking the Russian River Valley in the heart of Sonoma County, Paradise Ridge Winery handcrafts wines rich in taste and tradition.
Paradise Ridge Winery
4545 Thomas Lake Harris Drive
Santa Rosa
707-528-9463
http://www.prwinery.com
9. Christopher Queen Galleries, located in the charming town of Duncans Mills, specializes in early California paintings and contemporary art. The early California art, dating from the 1860s to the 1940s, features artists who are represented in the Oakland Museum, the De Young, the Crocker Museum and other museums and institutions. The downstairs salon features contemporary representational art depicting landscapes, figural, still life and genre. Open daily except Tuesdays, 11 a.m. - 5 p.m.
Christopher Queen Galleries
#4 John Orr's Gardens
Duncans Mills, CA 95430
(707) 865-1318
http://www.duncansmills.net
10. Sonoma County Art Trails Open Studios allows you to travel the back roads of Sonoma County and visit artists in their studio. See how established and emerging artists work, and talk to them about their inspiration and motives. This annual event takes place over two weekends in October. More information at http://www.artrails.org.
11. Armstrong Redwoods State Reserve, an 805-acre park, features a magnificent grove of ancient redwoods, a large outdoor amphitheater, self-guided nature trails and a variety of picnic facilities. During the 1880's, this area was set aside as a "natural park and botanical garden" by Colonel James Armstrong, an early-day lumber man who recognized the beauty and natural value of the forests he harvested. Today, it's the largest remaining old-growth redwood forest in Sonoma County. It is a living reminder of the magnificent primeval redwood forest that covered much of this area before logging operations began during the 19th century.
Armstrong Redwoods State Reserve
17000 Armstrong Woods Road
Guerneville, CA
(707) 869-2015
http://www.parks.ca.gov/?page_id=450
12. Look to the skies at the Robert Ferguson Observatory, located within Sugarloaf Ridge State Park in Sonoma Valley. This gem offers public viewing occasionally for free or for a nominal fees of $3 a person. Also, take the PlanetWalk, a scale model of the solar system designed to fit within the boundaries of Sugarloaf Ridge State Park. This "solar system" has been shrunk more than 2,360,000,000 times, small enough for the park to include the orbit of the most distant planet, Pluto, and large enough that the smallest planets could still be seen.
Robert Ferguson Observatory
2605 Adobe Canyon Road
Kenwood, CA 95452
http://www.rfo.org
13. Nestled at the end of Dry Creek, Lake Sonoma is one of the prime recreational areas in Northern California. Warm Springs Dam forms Lake Sonoma with more than 2,700 surface acres of water for canoes, sailboats, motorboats, fishing and skiing. Some 40 miles of trails are available to horseback riders and hikers. In addition to developed campgrounds, boat-in campsites and many picnic areas, Lake Sonoma hosts the Don Clausen Fish Hatchery, which is the most modern fish hatchery in the State of California.
Lake Sonoma
3333 Skaggs Springs Road
Geyserville, CA 95441-9644
(707)433-9483
http://www.spn.usace.army.mil/lake_sonoma
Sonoma Country, located 30 miles from San Francisco, is America's premier wine, spa and coastal destination, featuring more than 250 wineries, over 100 organic farms, and 50 miles of stunning Pacific coast.
For a free visitors guide or information on hotels, wineries, events, spas, attractions, and dining in Sonoma Country, visit http://www.sonomacounty.com or call 800-576-6662.
Note to editors: Photos of Sonoma County are available at http://www.sonomacounty.com/photos
###