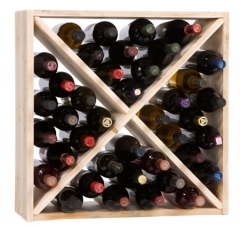 Our products always receive a lot of attention at auctions.
Olympia, WA (PRWEB) June 28, 2012
Taking place on October 13th, the Sonoma Bar battle is a chairty event that donates all proceeds from ticket sales, the silent auction and cash donations to American Legion Jack London Post 489 and Native Sons of the Golden West Parlor 111 both located in Sonoma, California.
This year, Wine Rack Store has contributed to the event by donating a 40 bottle wine cube stained amaretto, for the silent auction. "Our products always receive a lot of attention at auctions." said Heather Hoskins, Wine Rack Store Director of Communications. "And anytime our products can be paired up in a wine like event setting, its even better."
In its more than 17 years in business, the online wine rack retailer has prided itself on giving back to the community. In 2011 alone, the store had donated wine racks to eleven different causes.
Through the various types of wine rack donations, WRS has helped raise funds for numerous Boys and Girls club branches, student scholarships for schools such as University of Washington, CSU Monterey and UC Davis, non-profit clinics in Sacramento, the Washington State Combined Fund, Concern for Animals, Military Families and of course their on-going donation to breast cancer awareness through sales of their breast cancer themed wine charms.
And while many of the events featuring Wine Rack Store products are held in various states across the USA, anytime a fundraising event is held in the Pacific Northwest area, Hoskins is sure to attend. "I've participated in wine tastings and silent auctions from Seattle down to Portland, I love watching our wine racks at work."
Owned by Michael and Denise Kitson, Wine Rack Store has been selling quality pre-made and custom built wine racks, wine cellars and wine accessories since 1995. WineRackStore.com is A+ rated from the Better Business Bureau. All products are locally crafted in Olympia, WA and are shipped free anywhere in the contiguous United States.