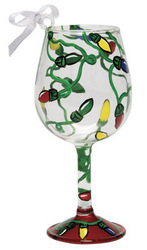 One of the most popular items that we carry is whimsical painted Christmas wine glasses. We have the full line of Lolita wine glasses that have wine cocktail recipes painted on the bottoms. We have also have an exclusive line of Christmas Girlfriend glasses with fun and sexy designs
Grapevine, Texas (PRWEB) October 2, 2008
Wine Christmas (WineChristmas.com) the first website devoted to holiday items with a wine theme, was launched last week. Wine Christmas has an extensive selection of Christmas ornaments, wine stoppers, wine glasses, wine gift bags, cocktail napkins and many more gift items all with a wine or cocktail theme. Located in Grapevine, the Christmas capital of Texas, Wine Christmas is the brainchild of Su Vino Winery owners, David & Chari Scott.
"We've carried wine themed Christmas gift items in our tasting room for several years now and they have been very popular, so we wanted to take it to the next level. With this website, we can offer a broader selection of gifts and we can even carry items with martini, cocktail, and beer themes that may not fit with the theme of the winery," said David Scott. "We carry everything from traditional Tuscan vineyard style Christmas ornaments to drinking reindeer wine stoppers and everything in between. We also have some fun and whimsical ornaments that we had created exclusively for Wine Christmas," stated Scott.
"One of the most popular items that we carry is whimsical painted Christmas wine glasses. We have the full line of Lolita wine glasses that have wine cocktail recipes painted on the bottoms. We have also have an exclusive line of Christmas Girlfriend glasses with fun and sexy designs," said Chari Scott. "For collectors, we have over a dozen different wine themed Santa figurines including some up to twenty inches in height," stated Scott.
Wine Christmas carries over 30 different wine gift bags made from different materials like paper, cloth, and velvet among others. They also carry more than two dozen different wine stoppers with holiday designs.
With over 300 different items to choose from, including several exclusive items, Wine Christmas is positioned to be the leading destination for gifts for wine lovers and those who desire fun and sassy gifts with wine, martini, and cocktail themes.
Most gift items are currently available on Wine Christmas; however more items will be added leading up to the holiday season as they become available. Optional gift wrapping services will be available with most items.
About Wine Christmas:
Wine Christmas is a division of award winning Su Vino Winery located in Grapevine, Texas which bills itself as the Christmas capital of Texas. Wine Christmas is a retailer of wine related ornaments, wine stoppers, wine bottle bags, Santa figurines, cocktail napkins, wine glasses, and many other holiday gift items and decorations.
###