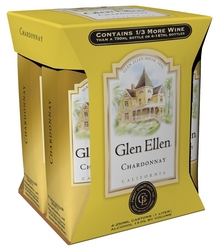 Overall, Tetra Paks have a staggering 50% smaller carbon footprint than glass bottles
San Francisco, CA (Vocus) January 6, 2009
The Wine Group announced today the replacement of its 187 ml single serving glass bottles for the popular Glen Ellen and Fish Eye brands with environmentally-friendly 250 ml Tetra Paks. "This action further demonstrates our commitment as the world's most cost and carbon efficient winery," said David Kent, president of the country's second largest winery.
The premium wines rolled out in this extreme portability pak are Glen Ellen Chardonnay, Pinot Grigio, White Zinfandel, Merlot and Cabernet Sauvignon, and Fish Eye Chardonnay and Merlot. Tetra Pak's grab-and-go ease make it the perfect sipper at the beach, barbeques, picnics, outdoor concerts, and on camping and ski trips, essentially any place where active consumers take backpacks or tote bags.
"In January when consumers focus on weight loss, Tetra Pak slims down as well with a lighter more cost and carbon efficient package than any wine in a glass bottle," Kent added.
The innovative Tetra Pak container offers numerous advantages over traditional glass wine bottles. "We pride ourselves on crafting the best quality wine for the best price, while lessening our environmental impact, and the Tetra Pak is the perfect vehicle to deliver these results, " says Glen Ellen winemaker John Williamson. Tetra Pak's state-of-the-art carton protects freshness and eliminates the possibility of cork taint. Tetra Paks are also convenient to open and reseal, portable, lightweight, and resistant to breakage. "Consumers will be thrilled to discover that they get more for their money: one 4-250ml package contains 1/3 more wine than a 750 ml bottle or 4-187 ml bottles," Williamson said.
"A much anticipated sustainable packaging initiative, the Tetra Pak container is proof that eco-conscious winemakers can package their wines without compromising at all on quality, and consumers concerned about the environment can easily do their part to reduce the carbon footprint of their purchases," says Director of Marketing, Lesley Larson. Compared to traditional glass wine bottles, Tetra Paks offer significant energy savings in production, transportation and storage and are far more efficient to transport, reducing greenhouse gases and saving fuel. Tretra Paks can also be distributed, warehoused and displayed in stores without refrigeration while safeguarding the wine's full flavors. "Overall, Tetra Paks have a staggering 50% smaller carbon footprint than glass bottles," Larson said.
The four- 250 ml Tetra Paks of Glen Ellen and Fish Eye wines are available nationally. Glen Ellen wines are price at SRP $5.99 and Fish Eye at SRP $6.99.
The Wine Group, LLC is a San Francisco based privately-held company that produces such well-known brands as Franzia, Concannon, Big House, Glen Ellen, Corbett Canyon, Foxhorn, Fish Eye and Mogen David. Founded in 1981 by a management buy-out of the wine assets of The Coca Cola Bottling Company of New York, The Wine Group is now California's second largest wine producer by volume and the world's most cost and carbon efficient vintner.
Tetra Pak is the world leader in food processing and packaging systems. Best known for its aseptic technology innovations, Tetra Pak works with customers to provide preferred processing and packaging solutions for food and is committed to making food safe and available, everywhere. http://www.tetrapakusa.com.
To speak with a representative of The Wine Group, please contact Patricia Schneider (415) 717-7595 or patricia9 (at) comcast (dot) net.
High Res Images:
http://www.patriciaschneiderassociates.com/FEY_BS_250_MERL_4PK_300.jpg
http://www.patriciaschneiderassociates.com/GLE_4PK_CHRD.jpg
Media Contact:
Patricia Schneider
Phone: (415) 717-7595
Fax: (435) 417-7595
Email: patricia9 (at) comcast (dot) net
###