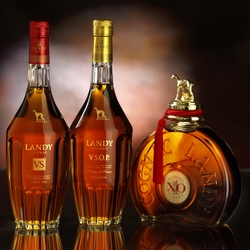 Entering into the spirits industry is a landmark moment for W.J. Deutsch & Sons
White Plains, NY (Vocus) July 17, 2009
W.J. Deutsch & Sons, Ltd., (Deutsch), a leading importer and marketer of award-winning wines from around the world, including (yellow tail), Georges Duboeuf, and Geyser Peak, announced today the creation of the companies spirits division to be overseen by Senior Vice President of Spirits, Jean-Francois Bonneté. Deutsch will launch the division by partnering with Cognac Ferrand to exclusively represent their "Rising Star*, affordable luxury" brand, Landy Cognac (championed by Hip Hop artists Snoop Dog and E40) throughout the U.S. market.
"Entering into the spirits industry is a landmark moment for W.J. Deutsch & Sons," says Deutsch Chairman, Bill Deutsch. "We are industry leaders in consumer brand development and marketing, with an unprecedented record for gaining high-visibility distribution and building premium brands throughout both the on and off premise - key factors in creating a successful spirits business. Our strength also lies in selecting suppliers with whom we develop long- term relationships, and who we work hand-in-hand with to create and promote innovative, premium quality products for today's consumer. Accordingly, we chose to work with Cognac Ferrand, the father of the "craft spirits" movement, to market Landy Cognac - their award winning, top 5** Cognac brand, selling for $20 - 24 per bottle."
Deutsch will immediately begin marketing Landy Cognac throughout the U.S. Over the past six years, the brand took the U.S. market by storm, proving popular with urban communities and the 21 to 34 year old market segments. Promoted as the social, approachable, "affordable luxury" blended Cognac, with the pedigree of the artisanal Cognac Ferrand producers behind the brand, Landy Cognac was named a "Rising Star" brand by both Beverage Media and Cheers in 2007. Most recently Landy received a coveted double gold medal for its V.S.O.P. at the 2009 San Francisco World Spirits Competition. Alexandre Gabriel, President of Cognac Ferrand, explains, "Cognac Ferrand is a boutique producer who specializes in hand-selling our artisanal spirits. In order to take Landy Cognac to the next level and continue to facilitate its rapid growth and widespread popularity, we realized the need to partner with a company that excels at building category leaders and has a strong distribution network throughout the country. Deutsch was the obvious choice!"
Jean-Francois Bonneté, former President - CEO of Mystique Brands LLC and the prior Director of North America for Cognac Ferrand, is the newly appointed Senior Vice President of Spirits, heading up Deutsch's new spirits division and reporting directly to Deutsch President, Jim Mello,. Bonneté brings more than twelve years of experience in the U.S. spirits industry. "Bill Deutsch and his son Peter have created one of the most respected and successful wine importing and marketing companies in the U.S., says Bonneté. "I am extremely excited to join this dynamic industry leader and I look forward to working with the entire Deutsch team to build a similar success story on the spirits side of the portfolio."
Regarding Deutsch's vision for their new endeavor: "Our initial focus will be to develop a strong portfolio of spirits brands, hand selected from suppliers who are committed to delivering premium quality, innovative products for today's consumer," explains CEO, Peter Deutsch. "Over the next three to five years we will concentrate on selling these products through a committed distributor network, and applying our extensive marketing expertise to build these brands into stars of the spirits industry."
W.J. Deutsch & Sons was founded in 1981 by Chairman Bill Deutsch to market quality wines produced by prestigious families from major wine regions of the world. Deutsch's wines are sold to the trade with well-planned marketing support and offered to U.S. consumers at fair market prices. Today the company is renowned for its brand building prowess and ability to identify and fill consumer niches within the wine category. Bill's son Peter Deutsch is CEO; thus two generations of the Deutsch family work side by side in their continuous quest to build strong brands and relationships throughout the wine industry.
The W.J. Deutsch & Sons portfolio includes award-winning wines from: Australia; (yellow tail), (yellow tail) The Reserve, (yellow tail) Sparkling, California; Atlas Peak, Buena Vista Carneros, Esser Vineyards, Gary Farrell Vineyards and Winery, Geyser Peak, Kunde Estate, XYZin, France; Andre Lurton, Georges Duboeuf, Hob Nob Vineyards, J. Vidal Fleury, Pierre Sparr, Sauvion et Fils, Idaho; Ste Chapelle, Italy; Barone Fini, Castello di Monastero, Coldisole, Poggio alle Sughere, Villa Pozzi, New Zealand; The Crossings, Portugal; Quinta Do Vale Meao, Spain; Mar De Frades (Rias Baixas), Cruz de Alba (Ribera del Duero), Ramón Bilbao Vinos Y Vinedos (Rioja), and Volteo (Castilla), Washington; Columbia Winery, Covey Run. http://www.wjdeutsch.com.
*Beverage Dynamics, March/April 2007
**Bureau National Interprofessionel du Cognac, 2008
Contact:
Barbara Scalera
Director of Public Relations
W.J. Deutsch & Sons, Ltd.
Office: 914-251-3294
Fax: 914-251-0283
Web: http://www.wjdeutsch.com
###