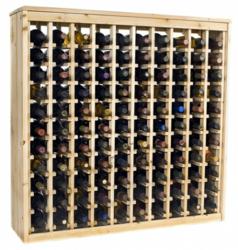 I love finding new ways to integrate our wonderful hand crafted, made in the USA products with a good cause. Not only does it aid the organization, but it also raises the awareness of our business
Olympia, Wash. (PRWEB) October 19, 2012
In it's almost 18 years in business, online retailer Wine Rack Store has prided itself on giving back to the community. This year alone, the store had donated their redwood wine racks and wine cellars to ten different causes.
Through the various types of wine rack donations, WRS has helped raise funds for numerous Boys and Girls club branches, student scholarships for schools such as University of Washington, CSU Monterey and UC Davis, non-profit clinics in California, the Washington State Combined Fund, Concern for Animals, wounded warriors and of course their on-going donation to breast cancer awareness through sales of their breast cancer themed wine charms.
While most of these events are wine related auction settings, Wine Rack Store Director of Communications, Heather Hoskins is open to all types of ways the company can help.
All donation requests are personally handed by Hoskins, "I love finding new ways to integrate our wonderful hand crafted, made in the USA products with a good cause." said Hoskins, "Not only does it aid the organization, but it also raises the awareness of our business."
With only a few months left of 2012, Hoskins is looking for more events to pair products with. "Many times, we've come across these events by word of mouth, I definitely appreciate suggestions."
Though Wine Rack Store sometimes receives a huge volume of requests, not all of them can be accommodated due to availabilities of donatable products in stock or the timing of the event.
Owned by Michael and Denise Kitson, Wine Rack Store has been selling quality pre-made and custom built wine racks, wine cellars and wine accessories since 1995. Wine Rack Store.com is A+ rated from the Better Business Bureau. All products are locally crafted in Olympia, WA and are shipped free anywhere in the contiguous United States.