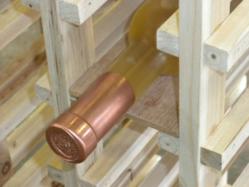 Wine Rack Store designs have even been used by retailers for displaying bottles of craft beers.
Olympia, WA (PRWEB) May 04, 2012
It is well known amongst wine buyers that bottle shapes vary based on factors such as varietal or brand. The bottle itself even comes in various sizes ranging from what is known as "big bottles" to the smaller more slender wine bottles, even long necks and short necks.
Micheal Kitson, President of Wine Rack Store, has long been aware of these variations when designing his prefabricated racking solutions as well as anytime he takes in a custom wine rack orders.
"We've designed our big bottle wine racks as well as our wine rack adapters for smaller bottles for this exact reason," said Kitson. His designs have even been used by retailers for displaying and storing bottles of craft beers.
Additional to traditional wine storage and beer bottle storage, wine racks are also great for storing bottles of liquor allowing for quick and easy access for any mixologist.
"Just Google wine rack uses on the internet," said Kitson, "the results will yield many uses for racks beyond just wine and bottle storage."
Crafters have blogged about the many uses that expand far beyond storing bottles. Newspapers, magazines, jars, the list of possibilities for a wine rack is endless.
Wine Rack Store encourages their customers to think out side of the box when considering a purchase, and even more so when creating a custom design. "Most people shopping our store do so for the purpose of storing their wine collection," said Kitson, "But every so often we will get a call in for someone looking to do something completely out of the norm, we always welcome inquires of all sorts."
Owned by Michael and Denise Kitson, Wine Rack Store has been selling quality pre-made and custom built wine racks, wine cellars and wine accessories since 1995. WineRackStore.com is A+ rated from the Better Business Bureau. All products are locally crafted in Olympia, WA and are shipped free anywhere in the contiguous United States.