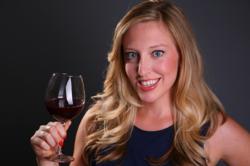 "Wine with Mariano's" live wine events are exactly what today's' wine consumers crave."
Jessica Altieri
WineChannelTV
Chicago, Illinois (PRWEB) April 24, 2012
Mariano's Fresh Market is launching a series of wine lifestyle events in Chicago at its Lakeshore East location. The store features an outdoor patio for wine service on the upper level, and also offers a rotisserie, sushi bar, deli, salad bar, fresh flowers, and gelato.
WineChannelTV's very own Jessica Altieri (Just Jess) will be on hand to launch the store's wine lifestyle events scheduled for May 10th and 11th from 5:00-7:00 PM. The inaugural events will feature wines from Boisset Family Estates, (Buena Vista, Amberhill) and "Be.", a new wine from Treasury Wine Estates, crafted for Millennial Women.
Joining Just Jess will be food, fashion and wine lifestyle celebrity guests as they explore the store's gourmet food and wine sections and pick the perfect pairings. The events will also be streaming live online at: http://www.livestream.com/winechanneltv
For more information, please contact WineChannelTV Media at petea(at)wctvnetwork(dot)com or 312-945-6601.