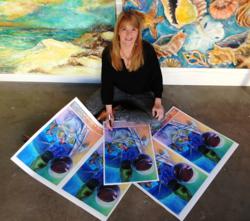 "I would love for my customers who have collected my posters over the years to come back to this festival and continue the tradition."
Miramar Beach, Florida (PRWEB) February 26, 2013
Popular artist Donna Burgess has created the first official poster for the new South Walton Beaches Wine & Food Festival, taking place April 25-28 in Grand Boulevard at Sandestin.
Donna Burgess painted her first wine festival poster in 1990 when she partnered with Chan Cox of Wine World for his three-year old wine festival. She teamed with Chan and participating winemakers to create memorable and collectable wine posters for that festival for nearly 20 years. When Chan parted ways with the old festival to create a new charity wine festival, Donna was inspired to renew the partnership.
"With Chan and the festival now taking place basically in my backyard, I was thrilled to be asked to create the first annual poster," said Burgess. "I would love for my customers who have collected my posters over the years to come back to this festival and continue the tradition."
Donna has owned and presented her artwork at Donna Burgess Gallery for three years in Grand Boulevard at Sandestin, the new venue for the festival. Posters are available now at the gallery and Burgess will sign posters at both Grand Tastings events during the festival.
A gallery owner for more than 25 years, Burgess's artwork includes watercolors, acrylics on canvas and mixed media. She is known for her striking use of color and her beautiful images of life by the seashore and beach lifestyle. Lovely images of sea life, the beach, shells, Florida cottages, children playing and her pets are recurring themes of her work.
South Walton Beaches Wine & Food Festival founding partners include http//:Destin Charity Wine Auction Foundation, Visit South Walton Tourist Development Council, Florida Restaurant & Lodging Association, Hilton Sandestin Beach Golf Resort & Spa, Wine World of Northwest Florida and Grand Boulevard at Sandestin®.
About South Walton Beaches Wine & Food Festival
South Walton Beaches Wine & Food Festival is an annual charity event held the last weekend of April. The festival features a stunning showcase of the best wines the world has to offer. Celebrity wine producers and chefs will present fine wine and food pairings from the world's most famous appellations. The Culinary Village presents the Savor South Walton Culinary Pavilion showcasing a sumptuous array of foods to taste, wines to pair, as well as wine and food seminars and cooking demonstrations. The event is a major fundraiser for Destin Charity Wine Auction Foundation, which benefits children in need in Northwest Florida. For more information, including a list of attending winemakers and to purchase tickets, visit http://www.SoWalWine.com.