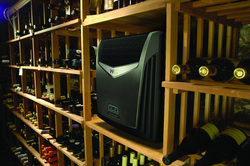 With the new Wine Guardian Through-the-Wall system, users can enjoy a very quiet and highly efficient wine storage cooling unit that blends stylishly with the design and aesthetic of their wine cellars.
Syracuse, NY (PRWEB) March 15, 2010
Wine Guardian® has announced the launch of its Wine Guardian Through-the-Wall wine cellar cooling system. Featuring a contemporary design, the quiet, energy-efficient Wine Guardian Through-the-Wall system was created by Air Innovations®, a leader in specialized environmental control systems for such industries as aerospace, pharmaceutical and cleanroom.
Engineered to accommodate small- to mid-sized residential wine cellars, restaurant and hotel wine storage and wine retail locations, the Wine Guardian Through-the-Wall system includes an electronic thermostat and humidistat to monitor cellar temperature and humidity. To enhance design appeal, the system features streamlined airflow louvers and a black and stainless steel faceplate incorporating the digital display.
Wine Guardian is manufactured with corrosion-resistant, commercial-grade components and is certified to Underwriters Laboratories standards.
The Wine Guardian Through-the-Wall system also features:

An internal condensate evaporation system for effective moisture removal
Drain overflow connection for cellars with high humidity
High-pressure limit safety switches that protect major components from high
refrigerant pressure conditions

Auto fan control that allows users to customize the frequency of the fan cycle
to equalize temperature

Switchable power cord connection that can be mounted on either the front or back of the unit, allowing for installation location flexibility
Supply air adjustability to help achieve optimal cellar air circulation
Environmentally friendly R-134a refrigerant
A 15-month parts warranty and six-month service warranty
"Commercial and residential clients should not have to choose between design and function," said Michael Militi, Wine Guardian division manager. "With the new Wine Guardian Through-the-Wall system, users can enjoy a very quiet and highly efficient wine storage cooling unit that blends stylishly with the design and aesthetic of their wine cellars."
The Wine Guardian Through-the-Wall cooling system is available in two capacities to handle various cellar sizes and applications. The compact system, weighing only 65 pounds and effective for up to 1500 cubic feet, measures approximately 16 inches high by 14 inches wide by 25 inches deep, making it a direct replacement unit for most other manufacturers' through-the-wall models. The system can easily be mounted flush with the cellar wall or racking, and includes Wine Guardian's new EasyMount™ one-piece wall bracket and support frame.
Optional features include:

Remote monitoring and sensing — with alarm capabilities to help maintain an optimal environment for valuable wine collections
Hot air discharge duct adapter — easy-to-install accessory exhausts hot air away from system's condenser
Free-standing humidifier — a remote-mounted humidifier for added moisture in the wine cellar. Includes a removable drip pad for easy maintenance, a built-in fan to optimize air circulation and convenient connection to the Through-the-Wall system
Five-year extended compressor warranty
Wine Guardian units are manufactured in the United States and distributed throughout the United States and internationally. Products are available through authorized Wine Guardian distributors, who can help customers determine which system and options are best suited to their individual storage needs and valuable wine investments.
For more information on Wine Guardian products and to locate a distributor, visit http://www.WineGuardian.com , call 800-825-3268 in the U.S. and Canada (internationally call 315-452-7400), write to info@wineguardian.com or follow @WineGuardian on Twitter.
Wine Guardian is a registered trademark of Air Innovations. The Wine Guardian Through-the-Wall system is patent pending.
About Wine Guardian
Wine Guardian, an Air Innovations company, is a world-renowned leader in wine preservation. Whether employed in commercial or residential settings, and regardless of the size of the wine cellar, Wine Guardian systems deliver superior performance in temperature and humidity to ensure perfect conditions for each wine collection. Wine Guardian systems incorporate cooling, heating, filtration, ducting, internal safety devices, and high or low ambient control as integrated solutions. Humidification can be built into the system at time of order or added separately. Wine Guardian also offers multiple installation configurations, including through-the-wall (flush, fully recessed or semi-recessed), remote mount, indoor, or outdoor (protected appropriately from the weather). For more information or to find an authorized Wine Guardian distributor visit http://www.WineGuardian.com or call 800-825-3268.
About Air Innovations
Established in 1986, Air Innovations engineers, designs, tests and manufactures specialized air conditioning and environmental control systems for a wide variety of niche market applications. Equipment is produced in a 40,000-square-foot, state-of-the-art facility in Syracuse, N.Y. Family owned by licensed professional engineers, Air Innovations has built 15,000 systems to date. The company's brands include Floratech® (refrigerated floral display cases for supermarkets and mass market customers), CleanroomSystems® (custom-designed environmental control systems/air conditioning units for cleanrooms and other critical environments sold under the trade names HEPAir®and AdvanAir®), Wine Guardian® (wine cooling systems for environmental control of residential and commercial wine cellars), IsolationAir® (portable contamination control unit for healthcare facilities and emergency preparedness) and HEPAiRx® (ventilating room air purifier). For more information about Air Innovations, visit http://www.AirInnovations.com or call 800-825-3268.
# # #