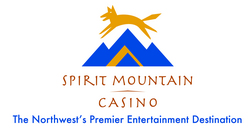 Grand Ronde, OR (Vocus) September 10, 2009
Prepare yourself for an afternoon of fabulous wines, artisan cheeses, chocolate confections and fresh bakery items, as Spirit Mountain Casino hosts a premiere wine event showcasing some of the Northwest's finest wineries and vineyards.
The Winemakers Faire will be held at the Spirit Mountain Casino Events Center on Saturday, September 12th from 1 p.m. to 5 p.m., and is free-of-charge to the public.
The Winemakers Faire is an enjoyable, intimate event that provides an opportunity for those in attendance to meet and interact with some of Oregon's finest winemakers, and to socialize with others who have a love for wine.
Whether a novice or an aficionado, you're sure to find something to tempt your palate at Spirit Mountain Casino's Winemakers Faire. Imagine having some of the most sought after winemakers of the Northwest together in one room, including Coelho Winery, Flying Dutchman Winery, Hip Chicks do Wine, Left Coast Cellars, Namaste Vineyards, Red Hawk Wines, Terra Vina Wines, Winters Hill Vineyard, White Rose Wines, Yamhill Valley Vineyards, Twist Winery and Victory Estate Olives.
About Spirit Mountain Casino
Spirit Mountain Casino is the Northwest's Premier Entertainment Destination. SMC opened its doors in October 1995. Named as Oregon's #1 visitor destination for over a decade, Spirit Mountain offers the most dynamic gaming and entertainment options in the region with the opening of its brand new Mountain View Sports Bar and Raindrops Nightclub. The casino is located just 90 minutes west of Portland, nestled in the Willamette Valley's coastal range.
Presenting the largest and most diverse gaming options in the Northwest, Spirit Mountain offers Nevada-style slots, blackjack, craps, roulette, poker, pai gow, keno and bingo throughout its spacious 90,000-square foot casino.
With 254 tastefully decorated rooms, including 14 elaborate suites, Spirit Mountain Lodge provides comfort and exemplary service for its overnight guests.
Whether it's fine cuisine at its signature Legends restaurant, enjoying Oregon's largest buffet at Cedar Plank, or trying one of the other food outlets, patrons have a variety of high-quality dining options.
Spirit Mountain Casino is an enterprise of The Confederated Tribes of Grand Ronde. For more information, please visit http://www.spiritmountain.com.
###