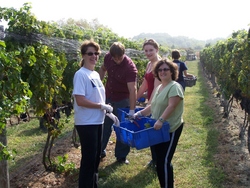 North Fork, NY (PRWEB) May 18, 2008
The newest wine experience in the North Fork's Wine Country. Bella Vita Vineyard provides the equipment, knowledge and premium grapes to help members produce a fine local wine. Dedicated in giving members a complete education in the vine to wine process. Resulting in a custom barrel of wine to share with family and friends.
Bella Vita Vineyard is where wine lovers can become part-time vintners. This is a perfect opportunity for you to produce and label you own wine to be given as a favor for a special event or a corporate gathering. And of course what you put on your label is up to you.
An Annual Membership includes the following:
A custom barrel of premium wine of your choice
1 barrel = 23 cases = 275 bottles
Filtering
Bottles
Corks
Standard Labels
Annual Harvest Festival
Two educational viticultural sessions
One educational wine tasting session
Additional Charges:
Upgrade type of barrel (French Oak)
Custom Labels
Membership in Bella Vita costs $3500 and it can be split with up to 12 people and only pay $20 per person after the first 4 for the harvest fest and wine tastings. This comes to $12.73 per bottle. Personal lessons in viticulture and winemaking by the winemaker and a local Long Island Winemaker makes this a unique opportunity.
We can also coordinate members with others if interested in splitting memberships or varietals, (additional fee required).
There are 4 mandatory winemaking sessions.
Session1: Your FRESHLY picked grapes will be crushed, destemmed and begin the fermentation process.
Session2: About 10 days later, members will return to press their grapes and fill a barrel of their choice.
Session3: A few months later, members will learn to clarify and stabilize their wine in preparation for bottling. At this point custom label designing and developing will take place.
Session4: Shortly before year -end members will meet eagerly to bottle , cork and label what we anticipate to be another award winning wine.
For those who have ever thought of trying their hand at winemaking without owning the vines or wine cellar5. The Sannino's say this is the next best thing, a "membership" in an existing vineyard.
http://www.sanninovineyard.com
# # #