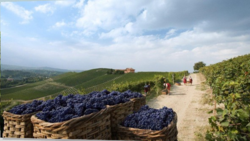 It's not often that you meet someone with this level of wine education and experience who can easily talk to experts and novices alike. - Angel Hogan, Manager of Penne Restaurant and Wine Bar, Philadelphia
Nashua, NH (PRWEB) June 27, 2013
WineNot Boutique, a leader in wine education in the Boston metro area, today announced its entry into the wine and food travel industry by offering a seven-day "Taste of Piedmont" wine tour from Oct 12-19, 2013. Piedmont is considered by many to be the best region in Italy for wine and food. Designed in partnership with Tour de Forks, the leader in uncommon epicurian adventures, Taste of Piedmont highlights include:

Two nights in Villa Tiboldi, a magnificent villa and winery on a hill in the midst of acres of vineyards and a three-night stay in the medieval village of Barolo, famous for its namesake wine
Tours conducted with English-speaking guides who are specialists in the foods and wines of Piedmont
Wine tastings at the Scagliola, Malvira, Contratto, La Spinetta, and Fontanafredda wineries
Visits to the historic Cafés in Turin: Caffe Platti, Mulassano, and Baratti Milano
A visit to the Agenzia di Pollenzo for a guided tour of the Wine Bank, a workshop, and a tasting of Premier Cru Barolo and Barbaresco. The Wine Bank is a repository for the best wines of Italy as well as a museum of Italian wine, offering visitors the chance to taste the wines from some of the most prestigious wineries
A white truffle hunt and truffle tasting in Alba with a true trufalaio and his dog
A private visit to Azienda Agricola Abate, where D.O.P. Mulassano and Langhe Tuma cheeses are made from raw sheep milk, followed by a tasting of cheeses, bread and wine
The tour cost of $3597 (per person, double occupancy, not including air fare) includes two nights at the Hotel Amadeus in Turin, two nights at Villa Tiboldi in Canale, three nights at the Hotel Barolo in Barolo, all breakfasts, some lunches and dinners, local tour costs and guides, and all taxes and gratuities. Please review the full itinerary for further details on this trip of a lifetime and how you can join us.
About Svetlana Yanushkevich: The Taste of Piedmont wine tour will be led by wine educator and sommelier Svetlana Yanushkevich. Svetlana grew up on the southern peninsula of the Ukraine, known as Crimea, famous for its 2,000-year-old tradition of winemaking. As a child she learned about wine from her uncle, who worked in Massandra, the imperial winery of Nikolai II, Czar of Russia. Later, she graduated from the Crimean State Agricultural University with an MS in Viticulture, and PhD in Agriculture. She then worked as an Associate Professor of viticulture at the Crimean Agro-Industrial College. In 2006, Svetlana was awarded the London-based Wine and Spirit Education Trust's highest degree, Diploma Level, and the title "Diplomat in Wine and Spirits" (DWS). Svetlana managed the wine programs at several prestigious Philadelphia restaurants and worked as a wine educator for corporate and private clients in Philadelphia. Svetlana currently offers wine education classes and wine events through her highly successful wine shop, WineNot Boutique, named "The Best of the Best Wine Shop of NH" the past three years in a row by The Hippo.