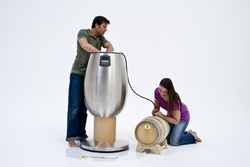 SAN JOSE, Calif. (PRWEB) May 21, 2008
In a shape inspired by the Riedel Syrah wine glass, the Winepod stands 4 feet tall and has a footprint of less than 4 square feet. WinePod's sensors and wireless technology connect to an interactive software application, the WineCoach™, helping the winemaker to monitor and control fermentation. The WineCoach™ is the first winemaking software that guides individuals step-by-step through the winemaking process, recording fermentation data and prompting corrective actions.
WinePod's professional winemakers guide individuals through the winemaking process in the WinePod Community™, a social network (built into the WineCoach™ dashboard) and The WinePodder™ blog. The WinePodder provides a channel for users to share their winemaking experiences, interact with fellow WinePodders and exchange personal winemaking tips and advice.
The Winepod can produce one fermentation every 30 days and yields approximately four cases of wine (48, 750ml bottles). Grapes are de-stemmed, quick frozen and shipped directly to the consumer complete with detailed certified lab analysis, so individuals can produce wine year–round, as many as twelve vintages a year.
Currently WinePod offers Cabernet Sauvignon grapes from Rancho Sarco and Napa River Ranch in Napa Valley, Pinot Noir from Sangiacomo vineyard and Syrah from Annadel vineyard in Sonoma Valley. By the end of 2008, WinePod will offer additional varietals. For individuals using their own grapes, Winepod provides certified lab analysis — a necessary step in order to ensure a proper fermentation.
WinePod inventor Greg Snell is a Silicon Valley native who worked in the semiconductor industry before launching ProVina, the privately held, consumer electronics company behind WinePod.
Consumers can order all the supplies they need to make, age and bottle their wine online through the WinePod Web site http://www.winepod.net.
The WinePod is: $4,499.00 (unit alone)
The Complete WinePod Personal Winery System (WinePod, one lot of premium frozen 2007 Napa Valley Cabernet grapes, WinePod Accessories Kit, WinePod Consumables Kit, WinePod Bottling Kit): $5,999.00
With French 30L French oak barrel and matching stand: $6,349.00
MULTIMEDIA GALLERY http://www.businesswire.com/cgi-bin/mmg.cgi?eid=5691120