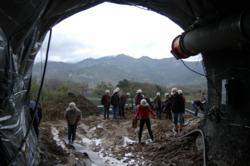 When construction is completed in 2012, the future winery building will line up directly with this cave portal, framing the view of the hills to the north
San Francisco, CA (Vocus/PRWEB) March 31, 2011
Architect Matt Hollis hosted a business development lunch for 25 Hungarian winemakers at the Napa Valley Joseph Cellars wine cave construction site on Sunday March 20. Winemaker Kristof Anderson presented pre-release barrel samples of 2009 Cabernet Savignon and Chardonnay. Cave-driller John Shook and his wife Judy served a delicious tamale lunch on elegant tables bedecked with flickering candlelight and tablecloth set on the compacted dirt next to the cave entry.
"If there's one thing that I will remember about this visit to America, it will be today's lunch outside an unfinished cave!" exclaimed Gusztáv Nyerges with a grin, his boots caked with mud. Rain from the previous day's thunderstorm had saturated the area immediately outside the cave, challenging Nyerges and his fellow lunch guests to negotiate the puddles and ankle-deep mud as they approached the makeshift dining area.
The Hungarian winemakers enjoyed a buffet-style lunch of chicken, pork, and cheese tamales paired with Joseph Cellars wine. Hollis, Anderson, and Shook took turns presenting their work and fielding questions from their hardhat-clad audience. "When construction is completed in 2012, the future winery building will line up directly with this cave portal, framing the view of the hills to the north," Hollis explained.
The Joseph Cellars cave lunch was a mid-day stop on a tour that included Freestone Winery in the morning and Alexander Valley Vineyards in the afternoon, both in Sonoma County. Citing Hollis's experience working with wineries in Hungary, the US Department of Commerce solicited Hollis to host the series of winery tours with the objective of fostering business development between American and Hungarian wine industry professionals. Members of the tour group had requested the opportunity to learn more about winery architecture.
Based in San Francisco, Hollis has worked on over 20 different wineries in Napa and Sonoma over the past 10 years, not always integrated with caves. In addition to domestic work, several consultation projects in Hungary and Croatia are under development. "I love listening to winemakers and helping them realize the optimum structure to produce their wine. It's like helping a gourmet chef design their dream kitchen," said Hollis.
For more information about MH Architects San Francisco and their design services, call the office at (415) 659-8307, view the MH Architects portfolio on the web at http://www.matthollis.com and the MH Architects Facebook page.
About MH Architects
As a multifaceted Architecture firm, MH Architects of San Francisco brings 21st century sustainability and design to a range of projects including residential homes and apartments, wineries in Napa and Sonoma Counties, hotels, offices and institutional projects. In addition to their projects in California, MH Architects has provided architectural services in Japan, China, and Hawaii.
# # #