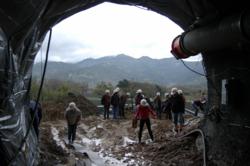 When construction is completed in 2012, the future winery building will line up directly with this cave portal, framing the view of the hills to the north
San Francisco, CA (Vocus/PRWEB) March 29, 2011
On Sunday March 20, architect Matt Hollis hosted a business development winery tour for 25 Hungarian winemakers at Freestone Vineyards, Joseph Cellars Winery (currently under construction), and Alexander Valley Vineyards. Citing Hollis's experience working with wineries in both the United States and Hungary, the US Department of Commerce solicited Hollis to host the series of winery tours with the objective of fostering business development between American and Hungarian wine industry professionals. Members of the tour group had specifically requested the opportunity to learn more about winery architecture.
"If there's one thing that I will remember about this visit to America, it will be today's peek inside an unfinished cave!" exclaimed Gusztáv Nyerges with a grin, his boots thoroughly caked with mud. Rain from the previous day's thunderstorm had saturated the area immediately outside the cave, challenging Nyerges and his fellow lunch guests to negotiate the puddles and ankle-deep mud as they approached the future barrel storage room.
Standing outside the Joseph Cellars wine cave portal, Hollis, winemaker Kristof Anderson, and cave-digger John Shook took turns presenting their work and fielding questions from their hardhat-clad audience. "When construction is completed in 2012, the future winery building will line up directly with this cave portal, framing the view of the hills to the north," Hollis explained. Because of the natural cooling properties associated with caves, they have been a popular approach to barrel storage among winemakers since ancient times.
Based in San Francisco, Hollis has worked on over 20 different wineries in Napa and Sonoma over the past 10 years, not always integrated with caves. In addition to domestic work, several consultation projects in Hungary and Croatia are under development. "I love listening to winemakers and helping them realize the optimum structure to produce their wine. It's like helping a gourmet chef design their dream kitchen," said Hollis.
As a project manager at Taylor Lombardo Architects, Hollis worked on the Freestone Vineyards winery during its design and construction in 2008. Currently principal at MH Architects, Hollis is overseeing construction projects at both Joseph Cellars Winery and Alexander Valley Vineyards.
For more information about MH Architects San Francisco and their design services, call the office at (415) 659-8307, view the MH Architects portfolio on the web at http://www.matthollis.com and the MH Architects Facebook page.
About MH Architects
As a multifaceted Architecture firm, MH Architects San Francisco brings 21st century sustainability and design to a range of projects including residential homes and apartments, wineries in Napa and Sonoma Counties, hotels, offices and institutional projects. In addition to their projects in California, MH Architects has provided architectural services in Japan, China, and Hawaii.
# # #