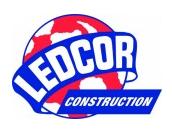 After working together several times, it quickly became apparent to both sides that our work styles naturally complimented each other
San Francisco, CA (Vocus/PRWEB) May 04, 2011
San Francisco-based MH Architects has partnered with full-service building contractor Ledcor Construction in a mutually beneficial relationship structured to maximize the resources of both partners. MH Architects contributes a fresh design approach with sustainable design experience to Ledcor's ability to build projects of significant scale and complexity.
The primary focus of the business development endeavor will include high-end custom homes and wineries for both domestic and international clients. As wine tasting rooms often include a similar level of finishes for fine homes, it is not uncommon for architects and contractors to recognize the overlap and specialize in both types of buildings.
During the last 10 years, MH Architects' principal Matt Hollis has worked with members of the Ledcor Construction team on several wineries located in Napa Valley, CA.
"After working together several times, it quickly became apparent to both sides that our work styles naturally complimented each other," Hollis recounts. "From our initial exchanges to the present, the Ledcor group demonstrated a high degree of organizational skills, an ability to quickly grasp concepts, and an aptitude to work with others as a team. In terms of working collaborative, I consider the Ledcor staff to be an extension of my own studio, as they display a passion for developing details, documentation, and follow-through on every issue."
MH Architects' wide range of technical experience in winery programming and design compliments Ledcor's ability to offer pre-construction, general construction and design-build services . Working closely with winemakers, the collaboration helps create the optimal facility for specific production requirements.
Whether a proposed winery involves new construction or renovation of an existing building, certain objectives remain constant. Operation layout should allow the winemaker necessary flexibility to make adjustments in processing strategy during the life of the building. When room organization is integrated with proper plumbing, mechanical, and refrigeration design, the winemaker enjoys a high level of temperature, humidity, and ventilation control. Production spaces with the ability to switch from one function to another from harvest to bottling hold a greater performance value.
The high level of service associated with MH Architects' and Ledcor's commercial projects extends to tailored residential solutions, considering each project with all the unique parameters and selecting a team of people who work well together and are focused on a successful conclusion. Sensitive to sophisticated requirements associated with custom homes, MH Architects listens to clients aesthetic objectives from the early phases of the design process to ensure that they are carried through during construction. Ledcor's resources ensure that quality finishes, fixtures, furnishings and other luxury amenities associated with high-end homes are consistently sourced and delivered.
Both MH Architects and Ledcor Construction are leaders in sustainable building techniques, building green environments for people to use every day. Writing articles on sustainable design and speaking on the subject for the National Association of Home Builders, Matt Hollis has sought to educate clients about green architecture whenever possible. Similarly, Ledcor has advocated green solutions to clients, demonstrating cost-benefit analyses of energy and water systems over the life of the building through building information management technology.
Architects and builders are becoming increasingly aware of the importance of integrating environmental consciousness into the construction process, reaching across their respective operations to secure consumer trust and loyalty. Recent figures show that 91% of Americans assert that they have a more positive image of an emerging company or a proposed building when it is environmentally responsible.
In many ways, sustainable architecture represents the foundation of future design. Aside from the positive image associated with green building, the long term cost savings associated with efficiency and effectiveness offset the initial capital investment. In addition, sustainable construction dramatically reduces otherwise avoidable construction waste contributions to landfill.
"In our strategic partnership with Ledcor, we're committed to finding green solutions whether we're building a new custom home or winery," Hollis said. MH Architects and Ledcor assert that their work represents the concerns of today's custom home or winery owner. Both entities are developing innovative ideas in the areas of ecology, energy and technology. Their approach is progressive in its search for new standards for both wineries and fine housing.
For more information about possible collaboration or any of Matt Hollis' services and projects, call him at (415) 659-8307, view him on the web at http://www.matthollis.com, or visit his San Francisco office.
About MH Architects
MH Architects is a multi-faceted San Francisco architecture firm. Principal Matt Hollis has been in practice since 2001 and has a range of technical experience in residential, winery, hotel, office and institutional programs. In addition to a large number of projects in California, the firm has completed projects in Japan, China and Hawaii.
###