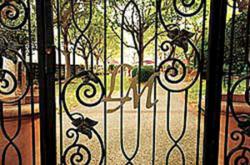 Enjoy a Napa-style feast, delectable wine and food pairings, live entertainment and family activities--all culminating in a world-class fireworks display, set against the stunning backdrop of the Napa Valley
St. Helena, CA (PRWEB) May 15, 2012
Louis Martini Winery, one of Napa Valley's best wineries that also offers wine tasting and winery tours, would like to invite the community to spend the Fourth of July with the Martini family from 6:30 p.m. to 10:00 p.m. as the winery celebrates 17 years of historic fireworks in St. Helena.
"Enjoy a Napa-style feast, delectable wine and food pairings, live entertainment and family activities--all culminating in a world-class fireworks display, set against the stunning backdrop of the Napa Valley," Dan Michael, Director of Experience Marketing, said.
The Louis Martini Winery has choreographed music set perfectly to the fireworks show. To experience the full spectacle, guests can tune to a broadcasting of the music at 88.1 FM on the day of the event. Guests will be able to enjoy the view and the night breeze, with appropriate musical accompaniment, while sipping extraordinary wine procured from the Louis Martini Winery.
Tickets are $110 for Founder's Club members, with up to four tickets at this price per club member, and $150 for non-member guests.
"Visit us any day and experience authentic Napa Valley first-hand at our Louis M. Martini Tasting Room, just one mile south of charming St. Helena, along historic Highway 29," Michael said. "Home to pristine Napa Valley vineyards and world-class Cabernet Sauvignon for more than 75 years, Louis M. Martini Winery is a must-see during your visit to wine country."
For more information about the Fourth of July event or any of Louis Martini Winery's wines, call 866-549-2582, view the winery on the web at http://www.louismartini.com or visit 254 St. Helena Highway South in St. Helena.
About Louis Martini Winery
For more than 75 years, the Martini family winemakers have crafted world-class Cabernet Sauvignon wines from the exceptional vineyards of Sonoma and Napa counties. Louis M. Martini embodied a simple, honest premise: the best grapes make the best wines. Today, Michael Martini, third-generation winemaker, carries on this tradition at the historic winery in Napa Valley with his range of unforgettable Cabernet Sauvignon wines.