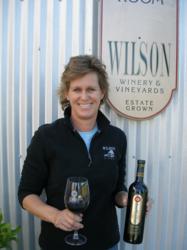 Healdsburg, CA (PRWEB) February 09, 2012
2011 was a banner year for Diane Wilson, co-owner with husband Ken Wilson, of Soda Rock Winery, known as one of Sonoma's best wineries. Her wines at Soda Rock Winery and Wilson Winery were recognized in various competitions and received high marks from Wine Spectator.
Winning the Sweepstakes for Best Red Wine (the third time in seven years!) at the Sonoma County Harvest Fair (October 2011) with her outstanding Zinfandel, she moved on into November by receiving 91 points on three wines in the Wine Spectator, again on her fantastic Dry Creek Valley Zinfandels. And if these accolades weren't enough, Diane won an unprecedented quantity of three Best of Class awards and was presented with the prestigious honors of "Best of Show" and "Best Wine by a Women Winemaker" in December's International Women's Winemaking Competition. The turn of the New Year brought twenty-one overall medals from the 2012 San Francisco Chronicle Wine Competition, including nine gold or double gold awards and featuring some new winners in the Pinot Noir and Cabernet Sauvignon categories and solidifying the fact that this woman is an exceptional wine maker.
A rising star in Sonoma County winemaking since the moment that her initial release in 1994 garnered a Best of Class, Diane Wilson has been the winemaker to watch. With an outstanding track record of awards over the years, and recognized as one of the most talented winemakers in California, this is Diane's time to shine.
With vineyards named after family members, each harvest brings something new for the small-lot, single-vineyard designate winemaker. Known in the area for her amazing Zinfandels, Diane Wilson has branched out into different varietals for the new boutique wineries that she and husband Ken have purchased in the past few years. Adding new wines to her portfolio, she has had fun applying known techniques and learning new practices to accommodate their expansion.
Local to the North Bay, Diane is an avid runner, and accompanied by companion Molly, her Border Collie, she runs the local trails and paths of beauty in Sonoma County. She enjoys her garden, using what she grows for her savory family meals. Diane loves to discover how food flavors pair with wine, and is often found assessing flavors for varietal pairings, or creating recipes for hors d'oeuvres to serve at winery events. Diane's innate talent and sense of smell have contributed to the making of her award-winning wines and have also staved off some disasters! This year, she averted a house fire due to her amazing sense of smell.
As a winemaker, Diane spends time honing her craft, learning from other esteemed wine makers, and researching methods to keep her au courant with the newest cellaring and winemaking practices. With next year's vintages still in the barrel, and already tasting like gold medal winners, one can only guess what amazing wines this next release will bring. One thing is for sure; Diane will continue to add to her ever-growing wine accolades portfolio and produce some of the best wines coming out of Sonoma County, California.
For more information about the accolades Diane received for her superior wines in 2011, or for information about any products or services from Soda Rock Winery, including Sonoma winery weddings, call (707) 385-9280 or visit their website at http://sodarockwinery.com
About Soda Rock Winery
Nestled in Sonoma County's scenic Alexander Valley, Soda Rock Winery offers visitors the opportunity to enjoy an eclectic mix of wine-country experiences. Sip a delicious array of wines with a focus on Bordeaux varietals. View the splendid surroundings and appreciate the historical buildings that have been beautifully restored using green building and recycling practices.
The historic winery facility, superb wines and beauty of surrounding Alexander Valley make Soda Rock Winery a spectacular Sonoma wedding venue.
# # #