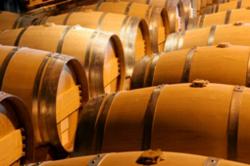 Each year we relish the opportunity to participate in the Barrel Tasting event with our patrons, as they sample the very first element of our wines.
Brentwood, CA (Vocus/PRWEB) March 08, 2011
The Barrel Tasting will offer wine enthusiasts the first chance to taste Hannah Nicole's upcoming Fall 2011 releases. This year, the event will showcase a variety of red and white wines, including Hannah Nicole's:

2010 Chardonnay, Contra Costa
2009 Cabernet Sauvignon, Sonoma
2009 Merlot, Estate
2009 Meritage, Estate
2009 Zinfandel, Contra Costa
2009 Petite Sirah, Estate
2008 Cabernet Franc, Reserve, Estate
"Each year we relish the opportunity to participate in the Barrel Tasting event with our patrons, as they sample the very first element of our wines," said Neil Cohn, co-founder and CEO of Hannah Nicole Vineyards and Winery. "Winemaker John Sotelo's art involves fine-tuning the quality of each and every one of our varietals. This year's 2011 barrel offerings represent some of our best wines to date and give every Bay Area wine lover an exceptional value, enabling them to stock their cellars at prices that are normally reserved for our wine club members."
About Purchasing Hannah Nicole's Future
Hannah Nicole's upcoming releases, which are now in the barrel, are available for purchase at a 20 percent discounted or "futures" basis price. Wine enthusiasts who order the releases before the Barrel Tasting Weekend will receive additional discounts, totaling more than 30 percent. By pre-ordering, buyers will also receive Hannah Nicole Virtual Bucks, a voucher that will total between 20 to 40 percent of their purchase of wines in the barrel. Virtual Bucks can be used towards the purchase of select current release wines from the Hannah Nicole tasting room including the winery's Sauvignon Blanc Estate or Reserve, or its popular Rose, Estate Merlot, Reserve Merlot and Cabernet Sauvignon.
The History of Futures
The practice of selling wine as futures or "en primeur" began in the early 18th century in Portugal when Britain's war with France resulted in the dwindling of its supply of "claret" and led Brits to satisfy their wine cravings in Portugal. In the later part of the 18th century after relations between France and England improved, Brits introduced the process of selling wine as futures to Bordeaux. By selling their wine en primeur, producers received advance payment that covered operating expenses and guaranteed the upcoming harvest.
Pricing
With the option to choose the varietals now or after the Barrel Tasting weekend, buyers can mix and match selected Hannah Nicole wines from the 2008, 2009 and 2010 harvests as they select 12, 18, 24, 36, or 48 bottles for $250, $365, $450, $637, and $800 respectively.
The wines will be available for shipment or pick-up in November, after they have been bottled and aged in the cellar. To take advantage of this futures offer, call Hannah Nicole at (925) 240-9463 or register online. Many of these wines are limited in production and may sell out before the actual Barrel Tasting event.
About Hannah Nicole Vineyards
Founded in 2002 by Glenda and Neil Cohn, Hannah Nicole Vineyards and Winery is located on eighty acres of prime land in Brentwood. The winery produces over 15 different wines, including Bordeaux and Rhone varietals.
Customers can find Hannah Nicole wines at the Brentwood winery and more than 200 Bay Area restaurants and retailers. Hannah Nicole's 18,000 square foot East Bay Area tasting room, winery room and event center is a destination for enjoying fine wines while building lasting memories with friends and family. In addition to offering regular Hannah Nicole Wine Club Member events, the winery features winery tours, live concerts, wine pairing dinners and other fun-filled events throughout the year. It is a magical spot for a unique East Bay Area winery wedding.
###