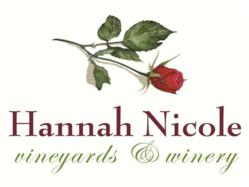 We take pride in creating personalized events that are fun and memorable for each and every one of our guests.
(Vocus/PRWEB) July 11, 2011
Hannah Nicole Vineyards and Winery, Brentwood's premiere winery, will host a unique IRON CHEF inspired wine pairing dinner on July 28, embracing the theme of today's on-camera celebrity chef competitions.
Former Boulevard Restaurant chef Paul Glaviano, who is now Executive Chef for Willowstone Catering, Hannah Nicole's culinary partner, will duel with Mark Enlow, Hannah Nicole's Operations Manager and former chef. With the help of their Sous Chefs, that they each will select from the audience, Mark and Paul will meet the challenge of creating a total of six unique culinary creations from a common secret ingredient.
"We're excited to provide a unique culinary and wine tasting experience through our own IRON CHEF-style challenge," said Neil Cohn, co-founder and CEO for Hannah Nicole Vineyards and Winery. "We're looking forward to finding out whose cuisine reigns supreme as we bring this version of friendly competition between food stars center stage. At Hannah Nicole, we are not only committed to infusing great artisanship into our winemaking -- we take pride in creating personalized events that are fun and memorable for each and every one of our guests."
More About Chef Paul Glaviano
As Willowstone Catering's Executive Chef, Paul Glaviano brings his culinary mastery to all of Hannah Nicole's wine pairing dinners. His 26 years of experience span high-end San Francisco restaurants and caterers including Boulevard, Miss Pearl's Jam House, Splendido, and The Elite Café. Paul is also an award-winning artist with a master's degree in fine arts from San Francisco Art Institute. His oil paintings are his expression of current events and can be seen in restaurants, hotels, spas and corporations throughout the Bay Area and across North America.
More About Chef Mark Enlow
As Operations Manager for Hannah Nicole, Mark Enlow brings his culinary influences to his work daily. Prior to his current position at Hannah Nicole, Mark's 30 years of wine industry experience was interspersed with culinary forays accompanying the likes of Wolfgang Puck, Michael Chiarello, Daniel Bouloud and Martin Yan, to name a few. He has also held multiple culinary positions with Hyatt Hotels in Hawaii, California and New York. Mark earned his Culinary Degree with Honors from the prestigious Culinary Institute of America in New York.
Event and Reservation Details
The IRON CHEF inspired seasonal wine pairing dinner at Hannah Nicole Vineyards and Winery – located at 6700 Balfour Road in Brentwood -- will begin at 6:30 pm on Thursday, July 28. The event will pair Hannah Nicole's wines, including its newest releases, with a total of seven courses. Six of the seven courses will be created during the IRON CHEF-style challenge. Tickets can be purchased from Hannah Nicole's website at http://www.hnvwines.com/events.html or by calling the winery at (925) 640-5482.
About Hannah Nicole Vineyards
Founded in 2002 by Glenda and Neil Cohn, Hannah Nicole Vineyards and Winery is located on eighty acres of prime land in Brentwood. The winery produces over 15 different wines, including Bordeaux and Rhone varietals.
Customers can find Hannah Nicole wines at the Brentwood winery and more than 200 Bay Area restaurants and retailers. Hannah Nicole's 18,000 square foot East Bay tasting room, winery room and event center is a destination for enjoying fine wines while building lasting memories with friends and family. In addition to offering regular Hannah Nicole Wine Club Member events, the winery features winery tours, live concerts, wine pairing dinners and other fun-filled events throughout the year. It is a magical spot for a unique Bay Area winery wedding.
###