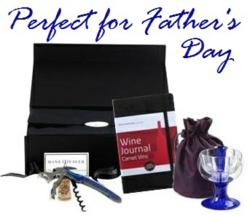 WineWeaver - a beautiful & practical gift to enhance their wines for years to come
(PRWEB UK) 23 May 2013
The older we get, the more we come to appreciate our parents and the sacrifices they may have made in raising us. We often don't take the time to show them how much they are appreciated, however Father's Day, on Sunday 16th June 2013, provides a great opportunity for us to recognise and honour Dad and to show Father just how much he is loved and appreciated.
Dads are often hard to buy for. Many Fathers already seem to have everything they wish for, which raises that annual question of what does Dad really want for Father's Day? Ms Robertson, founder of WineWeaver.com, offers her suggestions on selecting the perfect present for Dad this Father's Day.
"Finding something different and special to give to Dad can be a challenge, however help is at hand." Ms Robertson continues, "Honouring Dad with lunch or even a round of golf are sure to be appreciated, however time constraints for both parties can often hamper these ideas, so invariably my advice is to focus on a thoughtful gift for Dad when deciding what to get for Fathers Day."
Buying gifts for anyone can be difficult, however choosing something that is useful, practical and above all enjoyable, will ensure that it is appreciated all the more. With the gift hampers available from WineWeaver, each is a little different and provides a gift with lasting benefit and enjoyment for years to come.
WineWeaver have put together a special Father's Gift Hamper, which makes for the perfect gift for those Dads that enjoy their wine and the ideal gift solution for what to get for Fathers Day.
Making the Perfect Gift for Father's Day, WineWeaver's classically elegant gift box hamper has been filled with some essential wine accessories to really help Father enjoy his wine, including the highly acclaimed WineWeaver wine aerator!
Ms Robertson states, "Our wine aerators are not only practical, durable and unique, but also affordable - providing the receiver with a beautiful and practical gift to enhance their wines for years to come".
This special WineWeaver gift hamper is picked and packed to order and comes complete with a handwritten gift tag and hand-tied ribbon for a personal touch.
Just remember, whatever gift for Dad is bought, just take a moment this Father's Day and let Dad know how much he means.
Happy Father's Day!
About WineWeaver:
WineWeaver are a small, committed and dynamic team who are truly passionate in their aim to raise the awareness of the advantages of enjoying aerated wine. Flavours, aromas and character are all heightened when a wine has the opportunity to breathe whilst serving which is why the WineWeaver wine aeration system was designed for using on direct from 'bottle to glass' principle.
The passion of the founding partners led them to design a new style of wine aerator to incorporate functionality and a visual design which is both sophisticated and stylish.
The WineWeaver® wine aerator blends unparalleled performance with a state-of-the-art design to deliver perfectly aerated wine direct to your wine glass or decanter (the bottle to glass principle).
###
Contact: Patricia Robertson |Email: contact[at]wineweaver[dot]com | Tel: 00-44-203-427-5928
Head Office: 2.07 Second Floor, 83 Victoria Street, London, SW1H 0HW, United Kingdom |Website: http://www.wineweaver.com/