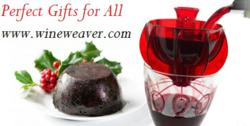 ... it is an all-in-one wine aerator
Chelsea, London (PRWEB UK) 22 November 2012
With Christmas fast approaching and the Christmas lights shining there is just a little more panic in shoppers thoughts on about what to buy for those 'have it all already' mother, father and oh, that special relative or loved one. Well, WineWeaver has the perfect solution, something which has the gadget appeal for 'dad 'in us and yet looks beautiful enough for the 'mum' side of us. Remember, mum is the one who has over the years prepared those tables of scrumptious food and as you got older over the years, there was that little treat of wine on a Christmas dining table to make it even more special.
What is the great new gift which can't be found everywhere? It is fun, colourful, or black and sophisticated and most of all useful. WineWeaver is a stylish, single glass wine 'decanter'. Why is it different? Unlike other aerators the product comes in a number of joyful, Christmas colours in addition to the sophisticated black, of course. There is a delightful' Santa' red colour as well as a seasonal 'young holly' green which works so well as an added decorative feature on those Christmas dining tables brimming over with delicious seasonal dishes. No need to worry about dripping red or white wine onto that heirloom Christmas table cloth either; the WineWeaver comes with a little drip stand which doubles up as a holder for the aerator. The partnership between stand and aerator is discreet enough to leave on that beautifully decorated table for that next glass of wine for the toast of Christmas cheer to a favourite, uncle, aunt, dog, cat, holiday, and the really unique gift.
However, just in case there is a need for a simple, black, white linen and silver cutlery table design there is also a special black and clear wine aerator aptly named The Black Velvet. Unusually these wine aerators are silent and sophisticated so it won't complete with the scintillating conversation at the dining table, sitting room or the hub of the home- the kitchen.
In case all of that isn't enough in one gift, WineWeaver is also incredibly simple to use, just twist the screw top on your wine and pour the wine into the top of the wide brimmed aerator. No need to worry about trying to pour it into a narrow top or to think about how it is placed on the glass (it has been designer fins to give it stability on top of the finest of glassware). Better still, it doesn't need a side board or large table to put the stand, filter and cleaning gadgets onto," it is an all in one wine aerator" said Robin Loftus, Chief Technical Designer for WineWeaver and "designed to fit most glassware" so there is no requirement to purchase special wine glasses.
Planning a big, big party, no problem the WineWeaver has a party mode just slip it into the decanter position and pour a whole bottle into your glass decanter or a water pitcher (remember not to put in any water) in one go. One bottle of finely aerated wine, all there is to do is pour it into the glasses.
The WineWeaver can't be bought here there and everywhere, so it's not like a pair of socks or gloves. It is different, unique and elegant- the perfect Christmas present http://www.WineWeaver.com. For those with a bigger budget there are gift hampers available too and it is the perfect accompaniment to a favourite bottle of wine. One more thing, mothers are oh, so wise as the site attests: "one for myself and the other as a present for my son for Christmas" and "already purchased a second one as a gift for my son-in-law".
Have a delicious, delightful, stress free Christmas with fabulous and unique gifts
# # #
About WineWeaver:
WineWeaver are a small, committed and dynamic team who are truly passionate in their aim to raise the awareness of the advantages of enjoying aerated wine. Flavours, aromas and character are all heightened when a wine has the opportunity to breathe before serving which is why the WineWeaver wine aerator was designed.
The passion of the founding partners led them to design a new wine aerator to incorporate functionality and a visual design which is both sophisticated and stylish.
The WineWeaver® wine aerator blends unparalleled performance with a state-of-the-art design to deliver perfectly aerated wine direct to your wine glass or decanter.
Contact:
Patricia Robertson
contact[at]wineweaver[dot]com
Tel: 00-44-203-427-5928
http://www.wineweaver.com/
Head Office: 2.07 Second Floor, 83 Victoria Street, London, SW1H 0HW, United Kingdom
USA Office: 7 Wilton Crest, Wilton, Connecticut, CT 06897, United States