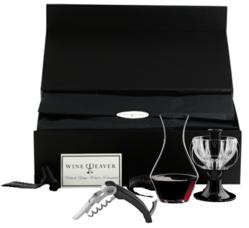 Service was excellent and very fast delivery. Excellent product
(PRWEB UK) 3 April 2013
New for Spring, WineWeaver launched a customer service initiative. Since launching wine aerators on WineWeaver.com in 2009 in the UK, the team have established national and international customer base including those from the newer USA division. WineWeaver are recognised as a provider of the highest quality in customer service by the ever growing customer base.
WineWeaver an online independent shop specialising in offering unique wine gifts and wine accessories including the British made wine aerator - WineWeaver.
WineWeaver makes a fabulous gift in its own right however, ever more resourceful customers are searching for more unusual gifts. Whilst being primarily known for their single glass and decanter wine aerator, the WineWeaver team have latterly, branched into the gift hamper and bespoke wine accessory market on with delivery options covering the globe.
Hampers also make great corporate gifts and WineWeaver were delighted to have been chosen to provide unique corporate gifts for clients of well known Scottish retailer CJ Lang and Son Ltd.
No mean feat as CJ Lang and Son Ltd of Dundee since 1919 are Scotland's largest independent retailing and distribution company. The group has an extensive portfolio of food and drink related interests including SPAR Scotland – itself the largest single symbol group of Scottish independents supermarkets with 400 supermarkets and 45% of the Scottish Independent market.
Sharon Methven, Marketing Officer, CJ Lang and Son Ltd told us the gifts " were fabulous" and "service was first class. We will definitely be using you again in the future xx"
Mindful of customer feedback on service levels offered the Spring review noted other comments from some of WineWeaver's many satisfied customers "Boy, you guys at Wineweaver offer FANTASTIC customer service. Amazing!! Appreciated!!" (Australia)
One Latvian commented, "I am a returning customer and I love everything about WineWeaver. As always - great experience!" . From North America we heard "Easy purchase with excellent follow up. WineWeaver works great, I recommend it." Michelle of Royal Wootton Bassett (UK) said 'Service was excellent and very fast delivery. Excellent product." The website gives a full list of the customer feedback under the Testimonials section.
CEO Patricia Robertson comments, "WineWeaver is very honoured to receive such outstanding testimonies. Our customers are the centre to our success and it's such a fantastic accolade to receive such high praise from them. Our small team works extremely hard to ensure a quality customer experience and they deserve to be recognised for it. We have had a great start to 2013, but rest assured, we won't be sitting on our laurels, and will continue to work to improve our customer service and the quality and the variety of products available to our customers".
In the current economic climate, keeping the customer happy whilst contending with rising overheads and increased business costs is not an easy task, but as Robertson advised "the WineWeaver team are keen to showcase our competitive edge and to grow further as a business, whilst maintaining the trust of their customers in providing a first class service".
Rising delivery costs is a major concern for online gift retailers. In March 2012, Royal Mail announced that the cost of postage in the UK would rise and huge, unexpected increases were seen across the country as previous price hike limitations were lifted.
Less than a year on Royal Mail are changing delivery prices for parcel having a big impact upon the many small online businesses that rely on Royal Mail. Two new 'broad' parcel categories have been introduced – 'small parcels' and 'medium parcels' based on a different combinations of size and weight. A real problem when packaging in purchased in bulk!
WineWeaver CEO commented, "Our wine aerator product has been designed to be very lightweight and portable, however the change to the way Royal Mail will classify our parcels will have a big impact upon the cost for delivering items to our customers. WineWeaver are customer conscious and will do our best to shoulder this increase in delivery as best we can for the benefit of our customers".
Packaging material costs are also increasing, the WineWeaver team was quick to adapt by implementing a Green Philosophy- 'Reuse & recycle'. Our manager advises, "The WineWeaver team is committed to minimizing packaging and wherever possible, WineWeaver utilizes packaging accumulated in the course of our everyday business. This benefits the environment and helps control our packaging and postal costs".
Patricia Robertson went on to say, "When our customers recognise the effort that our small team exerts in fulfilling their orders, it is very rewarding for the team and goes to further the excellent treatment of and positive attitude towards our customers. Every company should conduct a Spring review to give inspire teams to reach new heights of customer service."
About WineWeaver:
WineWeaver are a small, committed and dynamic team who are truly passionate in their aim to raise the awareness of the advantages of enjoying aerated wine.
The passion of the founding partners led them to design a new style of wine aerator to incorporate functionality with a visual design which is both sophisticated and stylish.
The WineWeaver® wine aerator blends unparalleled performance with a state-of-the-art design to deliver perfectly aerated wine direct to your wine glass or decanter ('bottle to glass principle').
# # #
Contact: Patricia Robertson |Email: contact[at]wineweaver[dot]com | Tel: 00-44-203-427-5928
Head Office: 2.07 Second Floor, 83 Victoria Street, London, SW1H 0HW, United Kingdom |Website: http://www.wineweaver.com/