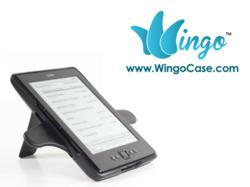 We want to make Wingo Case the best possible solution for E-Reader users
San Francisco, CA (PRWEB) May 30, 2013
Technology today is an integral part of daily life and that is nothing new. However, the dangerous impact of using devices every day is not at the forefront of people's minds. Luckily, the designers at Ambulant are developing Wingo Case, an ergonomic Kindle case that is a healthier and more comfortable alternative for holding the E-Reader while reading.
Whether swiping through the pages of a great book, clicking through magazines to read or relaxing watching a movie, all of these actions on a Kindle are stressful on hands. Constantly using and holding E-Readers creates strain on wrists and fingers because they are burdened by the effort and weight of supporting the device. Combine the pinching grip of holding the E-Reader with poor posture, and the aggravation can be very detrimental to hands, arms and shoulders.
As scientific studies reveal the impact of using E-Readers on a person's health, an emerging trend of designing ergonomic tech accessories and products is now on the rise. From chairs to computer stands to tablet holders, devices that aim to improve posture and stress on hands are becoming more popular for people in all walks of life. This new, ergonomic accessory, Wingo Case, is a case with wings for the Kindle 4. Not only do the wings on Wingo Case relieve stress on the owner's hands, wrists and fingers, they also make it easier and more comfortable to hold while reading. The case not only protects the hands, but protects the Kindle from damage and impacts as well.
With fourteen days left in the project's Kickstarter campaign, Wingo Case hopes to gain both funds and feedback from buyers. By utilizing crowdfunding and social media, the Ambulant creators and designers aim to take all thoughts and ideas into Wingo Case's next stages. With plans for adapting the case for tablets, other e-readers or smartphones, the next generation of Wingo Case will provide a healthier solution for using all tech devices. However, the team at Ambulant is open to ideas from backers and fans on how to bring Wingo Case to the next level of ergonomic design, and is now taking feedback for their next case via Facebook and directly through their Kickstarter campaign.
"We want to make Wingo Case the best possible solution for E-Reader users," says Cole McGowan, Co-Creator of Wingo Case. "The more support, responses and comments we get from everyone, the better the case will be."
After gaining the attention of big publications, like Mashable, Cult of Mac and EBook Friendly, Wingo Case has raised over $20,000. However, they are still short of their $55,000 goal. To purchase or learn more about this ergonomic Kindle case, head to Wingo Case's Kickstarter page at http://bit.ly/WingoCaseKS before the campaign ends on June 13th at 10:25pm EDT. Also, don't forget to connect with Wingo Case on Facebook and Twitter @WingoCase to send the creators your comments, thoughts and ideas.
About Wingo Case
The Wingo is the first hand-held device created with the user in mind and focuses on enhancing eReading comfort by reducing hand, wrist, and forearm pain. Our passion is to bring intelligent design to the reading experience. The design of the Wingo has been clinically tested, and is taking comfort to a whole new level. To learn more about Wingo Case, visit http://www.wingocase.com, Like them on Facebook and Follow them on Twitter @WingoCase.