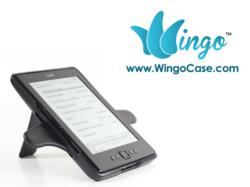 We want Wingo Case to be the first step in a line of ergonomically designed tablet and e-reader cases.
San Francisco, CA (PRWEB) June 11, 2013
Wingo Case is the first ergonomic case for Kindle that combines scientific research with a comfortable design. From the durable lightweight shell, to the versatile wings that conform to fit the natural contours of one's hand, every aspect of Wingo Case is designed with the user's best interest in mind. With only two days left in its Kickstarter campaign, Team Wingo still needs support to reach the $55,000 crowdfunding goal.
Team Wingo worked diligently to produce the most user-friendly Kindle case imaginable. Every aspect of Wingo Case, from top to bottom, is designed to make the owner's life easier. First, the case itself has contours that are shaped to better fit the natural shape of one's fingers. Secondly, the wings help relieve the pinching strain of holding a Kindle for hours on end from the user's hands and fingers. The wings carry the burden of the device's weight away from the user's fingertips. And thirdly, allowing users to read in a more natural and comfortable position for arms, hands, and fingers. In addition to being a healthier alternative for Kindle users, Wingo Case is lightweight and is made from high grade materials that help protect the Kindle from damage as well.
As the number of Americans diagnosed with arthritis continues to increase at a scary rate, the speculations of the different causes behind the joint disease spread far and wide. Doctors believe that by spending countless hours typing on their computer, sitting stationary in chairs, and the strain of supporting devices, are the main culprits for the rise of arthritis in young adults. Studies are showing the pinching grip of holding tablets and e-readers, coupled with poor posture, are causing strain on young adults' fingers, hands, and shoulders, and putting those under 60 at higher risk for diagnosis.
These facts and figures are eye-opening, and have inspired companies to produce user-friendly options to help prevent the rise of arthritis. One such tech accessory joining the fight is Wingo Case, the advanced ergonomic design from Ambulant. The team behind Wingo Case spent countless hours developing a case that combines scientific research with device protection and versatility to create a functional design that is comfortable and ergonomically safe for Kindle users.
"My father and I love our Kindles, but found there wasn't a comfortable way to hold our e-readers," says Cole McGowan, Co-Creator of Wingo Case. "So we decided to develop a case that combined scientific research with a comfortable and protective case. We want Wingo Case to be the first step in a line of ergonomically designed tablet and e-reader cases."
Wingo Case only has two days left on Kickstarter to reach their $55,000 crowdfunding goal. As the first ergonomic Kindle case, Team Wingo hopes to both make life easier for those with joint disease, and prevent the rise of arthritis diagnosis among young adults. Backers can purchase a Wingo Case for the exclusive Kickstarter early bird special price of $38. To support or learn more about Wingo Case, head to the Kickstarter page http://bit.ly/WingoCaseKS before Thursday June 13th, at 10:25pm EDT. Also, be sure to connect with and share Wingo Case on Facebook and Twitter @WingoCase.
About Wingo Case
The Wingo is the first hand-held device created with the user in mind and focuses on enhancing eReading comfort by reducing hand, wrist, and forearm pain. Our passion is to bring intelligent design to the reading experience. The design of the Wingo has been clinically tested, and is taking comfort to a whole new level. To learn more about Wingo Case, visit http://www.wingocase.com, Like them on Facebook and Follow them on Twitter @WingoCase.