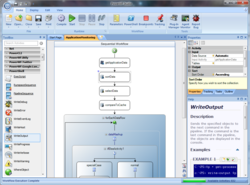 "Our Editors' Best Awards let us leverage our contributing editors' expertise to provide well-earned recognition to products that exceed industry standards," said Jason Bovberg, senior editor, Windows IT Pro.
St. Louis, MO (PRWEB) November 18, 2011
Devfarm Software today announced that PowerWF – Visual PowerShell Orchestration was named as a Silver medal winner of the "2011 Editors' Best Awards" in the Script Editor category by Penton Media's Windows IT Pro magazine.
The 2011 Editors' Best Awards are based on a product's strategic importance to market, its competitive advantages, and its value to customers.
"Our Editors' Best Awards let us leverage our contributing editors' expertise to provide well-earned recognition to products that exceed industry standards," said Jason Bovberg, senior editor, Windows IT Pro. "As we did last year, we've also added valuable, in-the-trenches insight from our reader community about the winning products. We're proud to now share this invaluable information with our Windows IT Pro and SQL Server Magazine communities. Our winners should be extremely proud of this recognition from our editorial experts."
"We are very excited to have PowerWF receive this award," said Brian Butler, CEO of Devfarm Software. "We have big plans for the future of the PowerWF product family, and with Microsoft's continued investment in PowerShell and workflow, PowerWF grows stronger every day."
PowerWF is a unique authoring tool that turns PowerShell commands into tool box items that can easily be used to create powerful workflows. PowerWF can convert existing PowerShell scripts into workflows which can then be extended using both PowerShell and non-PowerShell activities. Workflows can be tested directly from PowerWF using a full suite of debugging tools .
For 3 years PowerWF has seamlessly combined Windows PowerShell with Workflow technologies to provide users with PowerShell Orchestration. PowerWF provides a rich automation platform that lets IT Administrators harness the strengths and versatility of Windows PowerShell with a workflow Orchestration layer required to cross technical disciplines.
PowerWF includes PowerSE, a best-in-class PowerShell script editor that has all the features expected in high-end script editors like color syntax highlighting, tab completion, and deep Intellisense of PowerShell, WMI and .NET, but what truly makes PowerSE special is how it helps you learn and use PowerShell faster. Smart command help that is there when you need it, detailed command history showing execution time and success or failure, a detailed variable inspection window, and a seamless blending of these features with a syntax editor and a PowerShell command console allows you to make the most of your time with PowerShell.
For more information about PowerWF and to download a trial version visit: http://powerwf.com/products/powerwf.aspx
PowerSE makes PowerShell more accessible to everyone from the reluctant Administrator and casual user to the PowerShell Guru. Automatic PowerShell code generation and advanced debugging features like breakpoints and a watch window, provide instant value and time savings. PowerSE's built in visualization can customize results and drill into complex data structures.
PowerSE can be downloaded from http://powerwf.com/misc/download-se.aspx
PowerSE is the standalone script editor that is part of PowerWF – Visual PowerShell, the drag and drop PowerShell authoring and orchestration tool.
About Devfarm Software:
Founded in 2008, St. Louis Missouri based Devfarm Software's mission is to build world-class products to simplify and automate the daily activities of IT administrators. Devfarm Software's flagship product, PowerWF Studio delivers on this dream by leveraging Windows Workflow Foundation and PowerShell to innovate in the Administration, Virtualization, Service Desk and Monitoring spaces.
PowerVI extends this vision to simplify the automation needs of VMware administrators by allowing PowerShell scripts to be easily executed directly from the vSphere Client.
About Windows IT Pro:
The Windows IT Pro community is the heartbeat of the Windows IT world—a gathering of people, content and resources focused on Microsoft Windows technologies and applications. It's a "community" in every sense, bringing an independent, uncensored voice to IT managers, network and systems administrators, developers, systems analysts, CIOs, CTOs, and other technologists at companies worldwide. Visit http://www.windowsitpro.com today to learn more.
About Penton Media:
As a leading, independent, business-to-business media company, Penton knows business and how to create and disseminate vital content that moves markets. Penton is where professionals turn to gain the critical insight, expert analysis and relevant connections needed to compete and succeed. Headquartered in New York City, the privately held company is owned by MidOcean Partners and U.S. Equity Partners II, an investment fund sponsored by Wasserstein & Co., LP, and its co-investors. For additional information on the company and its businesses, visit http://www.penton.com.
For additional information, please visit the PowerWF website at http://powerwf.com or email Devfarm Software at sales(at)devfarm(dot)com.
For questions about this release, send an email to PR(at)devfarm(dot)com or contact Devfarm Software at:
Devfarm Software, Attn: Public Relations, 2008 Altom Ct, St. Louis, MO 63146, 314.590.5800
PowerWF, PowerVI, PowerSE and Devfarm Software are trademarks of Devfarm Software, USA. PowerShell and Windows are registered trademark of Microsoft Corporation, USA. All other trademarks mentioned in this document are the property of their respective owners.
###