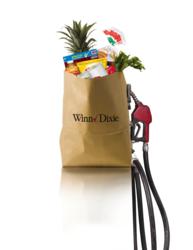 "Our goal is to make the lives of our guests a little more simple — and this is exactly what fuelperks! does."
JACKSONVILLE, Fla. (PRWEB) February 23, 2012
Rising gas prices are pushing savvy consumers to seek solutions to save at the pump, and Winn-Dixie (NASDAQ: WINN) is leading the way with its popular fuelperks! program. Today Winn-Dixie announced it is expanding fuelperks! to now include hundreds of bonus items each week, saving guests even more money at the pump. Each bonus fuelperks! item purchased is worth 5 cents to 50 cents off every gallon of gas. Purchasing multiple bonus fuelperks! items is a great way to speed up gas savings, and there is no limit on the number of bonus fuelperks! items that can be purchased.
"Our goal is to make the lives of our guests a little more simple — and this is exactly what fuelperks! does. You can turn your everyday grocery purchases into significant savings at the pump. It's a smart solution for saving through the items you already buy. What's not to love?" said Mary Kellmanson, marketing group vice president for Winn-Dixie. "The more bonus items you purchase, the more you save. With fuelperks! you may never have to pay for gas again."
To earn and redeem fuelperks!, you must have a Winn-Dixie Reward Card with a magnetic strip on the back, similar to a debit or credit card. Sign-up takes only a few minutes at any participating Winn-Dixie store. Bonus items change each Wednesday. Guests can download a bonus items checklist online at http://www.winndixie.com/fuelperks!, and learn about weekly bonus items and other updates on the fuelperks! Facebook page — http: //http://www.facebook.com/WD.fuelperks.
According to AAA, gas prices have increased 20 cents per gallon since the first of the year and are expected to surpass $4 per gallon this spring.
Winn-Dixie guests have saved more than $48 million on gas with fuelperks!
About Winn-Dixie
Winn-Dixie Stores, Inc., is one of the nation's largest food retailers. Founded in 1925, the Company is headquartered in Jacksonville, Fla. The Company currently operates approximately 480 retail grocery locations and approximately 380 in-store pharmacies in Florida, Alabama, Louisiana, Georgia and Mississippi. For more information, please visit http://www.winn-dixie.com.
###