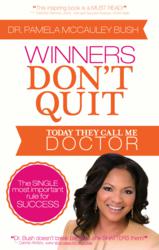 "Winners Don't Quit is an underlying purpose filled guide that will make you believe in your ability to succeed!" - Marsha Reeves Jews, Host/Executive Producer of KEEP IT MOVING
(PRWEB) June 12, 2013
Dr. McCauley Bush became the first known African-American woman to earn a Ph.D. in Engineering in the state of Oklahoma. She has been described as a role model, leader for our times, truly inspirational woman and a catalyst for positive change. While she is appreciative of these accolades it does not begin to compare to the joy she feels when she is able to "help others realize their true inner potential."
"Winners Don't Quit . . . Today They Call Me Doctor" is the moving account of Dr. Bush's experiences in going from an insecure teen mother, abused wife, welfare recipient and struggling student to become a successful engineering professor, researcher, keynote speaker, expert witness and entrepreneur in the areas of ergonomics, biomechanics and women's leadership. The book, heralded as; "A message that should be written in every school, spoken from every pulpit and engraved on every heart," by author Dennis Kimbro, is available in both paperback and ebook formats on the Pamela McCauley Bush website and on Amazon.
Dr. Bush's activities have led to national awards including the Saturn/Glamour Award, Millennium Woman of the Year, Black Engineer of the Year and Annual Woman of Color in Technology Award for Educational Leadership. Additionally, she has been recognized in national magazines including Ebony, Essence, Jet, Career Engineer, Black Engineer Magazine, the National Society of Black Engineers Magazine, the Institute of Industrial Engineers Magazine and various others publications.
Dr. Bush shares details of the book in her "Do You Realize This is YOUR Future?" conversational-style talk to teens and organizations across the country, highlighting empowerment strategies, recognition of talent and abilities, resisting bullying, building self-esteem, how to break the cycle of financial dependency, setting goals and practical coping skills for everyday life challenges.
In connection with Dr. Bush's 50 Days of Giving for 50 Years of Living Campaign, June sales of Winners Don't Quit will benefit the Girl Scouts of Western Oklahoma.
Dr. Bush is a nationally recognized speaker, entrepreneur, author and tenured Professor in the Department of Industrial Engineering and Management Systems at the University of Central Florida where she leads the Human Factors in Disaster Management Research Team. She is the Chief Technology Officer of Bush Enterprises, specializing in engineering, technology and manufacturing services. She is also the author of Ergonomics: Foundational Principles, Applications, and Technologies as well as the new Transforming Your STEM Career Through Leadership and Innovation: Inspiration and Strategies for Women by ELSEVIER Academic Press.