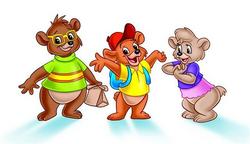 Butterfly is so proud to have the opportunity to partner with travelingbear.com to enable the children of its members to experience the many benefits of this book learning series and interactive products
Palm Beach Gardens, FL (PRWEB) April 16, 2009
The wonderful Winning Kids with Traveling Bear series of books, CD's, DVD's, toys and music that are designed to build character, positive values and winning attitudes in children will be featured on http://www.myworkbutterfly.com as a highly recommended series of products for Mom's to check out for their kids.
The Traveling Bear products, created by Christian Hainsworth and winners of a 2008 Children's Magazine Preferred Choice Award, are a tremendous resource for parents and educators that want to instill positive attitudes and values in children. The 14 part book series is available in English and Spanish and can be purchased as a book of the month club or individually with all the other products at http://www.travelingbear.com. Additionally, the Traveling Bear products have also received high ratings from The National Lekotek Organization, the premier organization that identifies products that are beneficial to children with special learning needs.
"Butterfly is so proud to have the opportunity to partner with travelingbear.com to enable the children of its members to experience the many benefits of this book learning series and interactive products," said founder Bradi Nathan.
MyWorkButterfly.com was founded by Bradi Nathan that partnered with Success Communication's, Terry Starr to create the most comprehensive social networking site for mothers. MyWorkButterfly.com includes a community of moms on a journey to return to the workforce and guides those who are looking to achieve work/life harmony. The site showcases exclusive profiles and personal video interviews of celebrity mom mentors that will also be personally reviewing the Traveling Bear products such as: Malaak Compton-Rock: Philanthropist of the Year and wife of comedian Chris Rock, Colbie and Diane Caillat: Triple Platinum Artist, Singer, Songwriter and her mom Diane, Danielle Monaro: Z100 Radio DJ, Kathie Lee Gifford: Co-host Today, Actress, Singer, Songwriter, Anne Sutherland Fuchs: Chair of NYC Commission on Women's Issues, Rebecca Lobo: WNBA all-star, ESPN commentator, Emme: First plus-sized Supermodel, Liz Lange: Founder, Liz Lange Maternity, Jane Skinner: Co-host "Happening Now" on FOX TV, Jennifer Griffin: FOX political news correspondent, Josie Bissett: Actress, Melrose Place, Dr. Robi Ludwig: Nationally Known Psychotherapist, Samantha Ettus: Best Selling Author "The Expert's Guide" Series, Lisa Bloom: Host of In Session on truTV, legal correspondent and daughter of Gloria Allred, Laurie Gelman: Co-host of Toronto's, "The Mom Show", wife of Michael Gelman, Exec. Producer of Regis and Kelly.
Additional content includes parenting, volunteerism, beauty, fashion, fitness, travel, nutrition, health and finance, resources for entrepreneurs, childcare, adult education, elder care, career coaching, psychotherapy and a robust post/seek job board.
Contacts:
Barfield Public Relations
212-736-0404
Winning Kids Incorporated
http://www.travelingbear.com
Christian Hainsworth
cjhainsworth (at) winningkidsinc (dot) com
561-262-7174
MyWorkButterfly.com, Mothers, Wives and Workers
Bradi Nathan, Co-Founder
bnathan (at) myworkbutterfly (dot) com
201-396-7770
Terry Starr, Co-Founder
tstarr (at) myworkbutterfly (dot) com
973.535.9300 x132
###