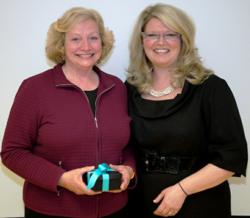 The WHS simply could not function without the generous support of sponsors and volunteers.
Winnipeg (PRWEB) May 15, 2013
The Winnipeg Humane Society (WHS) recognised the exceptional work of volunteers, sponsors and partners at its Annual General Meeting on Wednesday, May 1. Liberty Tax, St. John Ambulance, Red River College's Creative Communications students and faculty and WHS volunteer Gabrielle Thiessen were acknowledged for their outstanding contributions.
"The WHS simply could not function without the generous support of sponsors and volunteers," said Bill McDonald, WHS CEO. "It's important for us to acknowledge the invaluable work these partners do for us and our animals."
Liberty Tax received the Corporate Supporter Award for their contributions to major fundraising events such as Paws in Motion, Paws for the Season, and the 1001 Donations Radiothon and Telethon. For the past five years, Liberty Tax has supported the shelter not only financially but has also provided incredible spirit, manpower and imagination.
St. John Ambulance was awarded the WHS Partnership Award for their work with the See Spot Read program, which is now in its fifth year at the WHS. Children who struggle with reading are partnered with therapy dogs to practice their reading skills. St. John Ambulance provides dogs and volunteers. The WHS coordinates and implements the program with WHS educators, making this a true partnership between the two organizations.
Gabrielle Thiessen was awarded Outstanding Volunteer Support for her five years of dedication to volunteering at the WHS. Thiessen has spent over 1,700 hours volunteering in nine different roles, including being instrumental in the shelter's Canine Communicator program, which requires working with dogs that need significant behaviour work.
The Outstanding Media Support Award was presented to students and faculty from Red River College's Creative Communications. Beyond providing student interns to the WHS throughout the school year, RRC's students produced, promoted and hosted the nine-hour 1001 Donations Telethon that took place on Sunday, March 17. With the students' help, the telethon raised over $61,000 in donations this year.
The Winnipeg Humane Society is a registered charity and non-profit organization whose mission is to protect animals from suffering and to promote their welfare and dignity. Funded primarily by donations, The WHS has pets for adoption to the public. All pets available for adoption have been spayed or neutered, vaccinated, and have received a behavioural assessment. If you'd like to learn more about cats or dogs for sale or The WHS please visit http://www.winnipeghumanesociety.ca.