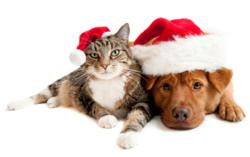 Whether or not you attend Paws for the Season, even considering the WHS when thinking about your charitable giving will be a huge help
Winnipeg, Manitoba (PRWEB) November 29, 2012
The Winnipeg Humane Society is throwing its Paws for the Season craft and bake sale on Sunday, December 2. The event is an annual fundraiser that raises money for the shelter, which has received an influx of animals in need of attention in recent weeks.
"In the past seven weeks, the WHS has received over 1300 animals," said WHS CEO Bill McDonald. "This time of year is especially taxing because as the weather gets colder, more and more animals get abandoned in the cold and wind up at the WHS."
The increase in animals means a strain on the WHS's resources. The organization hopes Paws for the Season will raise around $10,000 to provide support for its animals, which includes the more than 1000 cats and kittens, 220 dogs and puppies, 19 rabbits, and 11 guinea pigs the shelter has taken in since October 1.
"Whether or not you attend Paws for the Season, even considering the WHS when thinking about your charitable giving will be a huge help," said McDonald. "It's an overwhelming time for us because we want to do all we can to help these vulnerable animals, and by the end of the year our resources are very drained."
The Winnipeg Humane Society is Manitoba's oldest and most-experienced animal welfare organization, and receives over 8000 animals per year. Events like Paws for the Season help raise funds to care for these animals, as well as pay for the resources needed to support the shelter in general.
Paws for the Season features locally-made crafts and tasty baked goods, as well as holiday music entertainment, fun activities for kids, a tree lighting ceremony at 2 pm, and the appearance of a very special guest. All the money raised at the event goes directly towards funding the shelter, which relies on donor support to function.
###
The Winnipeg Humane Society is a registered charity and non-profit organization whose mission is to protect all animals from suffering and to promote their welfare and dignity. Funded primarily by donations and bequests, The WHS has pets for adoption to the public. All pets offered for adoption and sale have been spayed or neutered, received necessary shots and treatments, and a behavioural assessment. If you'd like to learn more about cats or dogs for sale or The WHS please visit http://www.winnipeghumanesociety.ca.