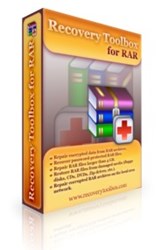 a powerful, flexible and fast solution for recovering RAR archive files.
Alexandria, VA (PRWEB) October 18, 2012
Recovery Toolbox Releases the Most Powerful WinRAR Recovery tool on the Market
Recovery Toolbox has extended its line of award-winning recovery and repair tools with Recovery Toolbox for RAR, the fastest and most functional tool of its kind available on the market. Recovery Toolbox for RAR is a compact program with a very straightforward wizard-based user interface that is perfectly suitable for novices and professionals alike and does not require any data recovery experience or special knowledge.
Many users face the problem of opening RAR archives damaged due to file system incidents or transmission errors. The corruption of any portion of an archive file renders it useless and WinRAR fails to open it. Recovery Toolbox efficiently extracts data from files (read how it works) that cannot be opened normally and keeps the source archive unmodified. The program supports WinRAR recovery from files of over 4 GB in size, recovery from files in the local network or on attached optical or flash drives, as well as recovery from password-protected files. Based on a proprietary file analysis algorithm, Recovery Toolbox is capable of extracting the maximum of data from damaged RAR files.
"WinRAR is wildly popular is some parts of the world, so the idea of making a fast and accurate tool for WinRAR recovery came quite naturally," explains Victor Bobrov, the company's CTO. "We had similar solutions in our portfolio, so the concept wasn't anything groundbreaking, but the results we are seeing today are very inspiring."
Recovery Toolbox for RAR is a balanced recovery tool that helps users get more and spend less in situations when time is of essence.
Product page: http://www.recoverytoolbox.com/rar.html
Find more at: http://www.recoverytoolbox.com/