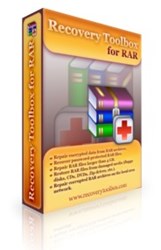 Recovery Toolbox for RAR repairs the structure of WinRAR files and decompresses any document in RAR format.
Alexandria, VA (PRWEB) December 12, 2012
The absence of known compatibility problems permits starting WinRAR repair software on any PC in the network, the input parameters of compressed document are not really important. This tool repairs self-extracting archives, restores broken CRC checksums, saves some documents separately or decompresses all files in bulk, shows the list of files to be saved and provides a lot of other useful features, helpful for data restoration.
Recovery Toolbox for RAR permits repairing the structure of WinRAR compressed documents and allows retrieving corrupted files from affected archives of supported format. Since it recovers any type of compressed file, there is no need to set some kind of input parameters, this utility can be started immediately after the installation.
"WinRAR is the World-wilde popular software, so the idea of making a accurate and fast recovery software for WinRAR archives came quite naturally," explains Alexey Korablev, one of the software developers. "We had similar solutions in our portfolio, so the concept wasn't anything groundbreaking, but the results we are seeing today are very inspiring."
Friendly user interface of WinRAR repair software facilitates the usage of Recovery Toolbox for RAR by anyone, technical skills of its operator are not really important because there are no additional settings to be modified. The process of WinRAR repair implies the accurate selection of needed path, then it runs automatically and decompresses output files when ready.
Recovery Toolbox software developer provides data recovery services since 2003, this company has a broad experience in the domain of file repair applications for more than 20 data formats. The headquarters of this company is located at: 901 N. Pitt str. Suite 325, Alexandria, VA 22314, United States of America
Manufactured by http://www.recoverytoolbox.com/
Read more about software http://www.winrarrepair.recoverytoolbox.com/